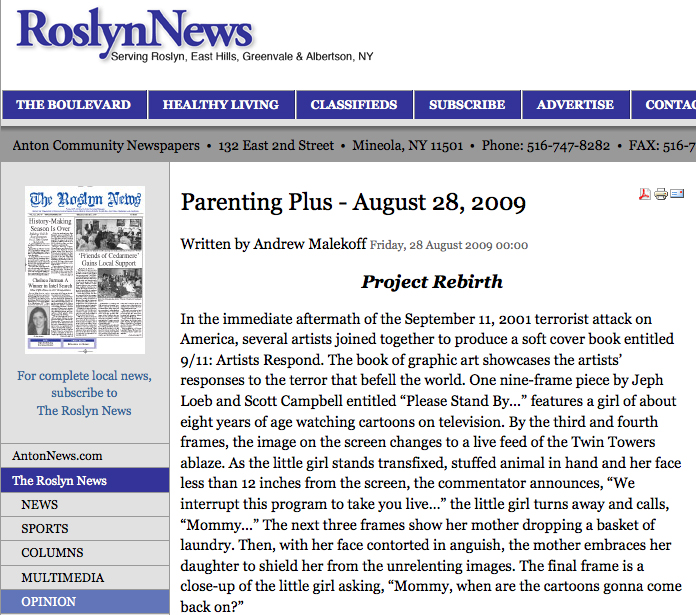 September 11, 2009. Project Rebirth, the documentary film produced by film director Jim Whitaker that chronicles the re-development of the World Trade Center site and the recovery of nine people coping with the aftermath of 9/11, was recently featured in an article by Andrew Malekoff, executive director of the North Shore Child & Family Guidance Center, in the Roslyn News. The documentary is a core component of the Project Rebirth non-profit organization, which has partnered with CCNMTL and Georgetown University to incorporate footage from the documentary in university classrooms. Students in social work, psychology, film, architecture, and English courses at Columbia and Georgetown are using the CCNMTL-developed video analysis tool, VITAL (Video Interactions for Teaching and Learning), to view and analyze hundreds of hours of footage from the Project Rebirth film library.
In the article, Malekoff explains the premise of the documentary: a diverse group of individuals impacted by 9/11 are interviewed over the course of several years as they grieve and cope with the aftermath of the attacks. "They generously offer us, and future generations, no doubt, the intimate gift of their unfolding grief and resiliency in the face of disaster," writes Malekoff. He also notes the film's additional objectives--to record the rebuilding of the World Trade Center site using 12 time-lapse cameras and to educate students about the disaster and help support victims of and first responders to major disasters with a Project Rebirth Center.
Columbia and Georgetown will work with Project Rebirth as they prepare to open the Project Rebirth Center, which will serve as a center for therapeutic, education, and training resources that focus on grief and trauma suffered by victims and first responders to major disasters. The Center is scheduled to open in 2010, the same year as the release of the Project Rebirth documentary.
Malekoff's North Shore Child & Family Guidance Center is using VITAL to view footage from Project Rebirth and explore grief therapy training. Read his article on the Rosyln News website or learn more about Project Rebirth at Columbia.
Related news:
Apr-24-2012: Newsletter Features Project Rebirth
Oct-27-2011: Film Screening: REBIRTH
Feb-11-2011: Project Rebirth Premieres at Sundance Film Festival
Apr-13-2010: Downtown Express Features Project Rebirth and Partners
Mar-29-2010: Project Rebirth Hosts Reception for CCNMTL
Sep-15-2009: Project Rebirth Founder Jim Whitaker in the News
Apr-13-2009: CCNMTL Hosts Project Rebirth Event and Preview in Miller Theatre on April 15
Dec-16-2008: With Project Rebirth Columbia and Georgetown Offer Students a Closer Look at Post 9-11 Recovery