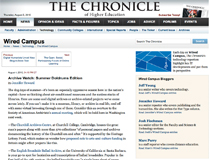 August 5, 2010. The Vietnam Collection, an online archive of the 1983 WGBH series, "Vietnam: A Television History," which is currently being used in Columbia classrooms under Project Vietnam, was featured in the Chronicle of Higher Education. In Archive Watch: Summer Doldrums Edition, author Jennifer Howard lists the collection as one of the cool digital archives that she came across lately.
The Vietnam Collection is housed in WGBH's Open Vault archive, and comprises original footage and stills from the 13-hour television series. CCNMTL, along with the University of Massachusetts at Boston, partnered with WGBH Media Library and Archives to make the online collection available to the public and accessible for educators to use in the classroom.
At Columbia, the CCNMTL-developed Project Vietnam enables students to discover and watch full-length interviews and a range of stock footage from the Vietnam Collection; annotate, edit, and create sub-collections of these videos; and incorporate clips into multimedia projects. Faculty from Columbia University's Teachers College, Department of History, and Department of East Asian Languages and Cultures are integrating Project Vietnam into their curricula.
Visit the Vietnam Collection and learn more about Project Vietnam at Columbia.
Related news:
Jul-27-2011: Project Vietnam Site Launched
Jun-03-2011: Special Event: Recapping Project Vietnam
May-03-2010: The Vietnam Collection Featured in New York Times
Apr-15-2010: WGBH Launches the Vietnam Collection
Mar-03-2010: Project Vietnam Presented at WebWise Conference
Aug-26-2009: CCNMTL Faculty Partners Call for Media Literacy in Education
Jun-29-2009: Project Vietnam Launches at Teachers College
May-12-2009: CCNMTL Project Analyzing Vietnam War Documentary Footage Highlighted in Teachers College Article
Jun-25-2008: CCNMTL Collaborates with WGBH and UMASS Boston to Activate Vietnam Digital Archive