Recently, the CCNMTL team presented the third installment of their ongoing rewirED Series, focusing on the theme "Deconstructing the Discussion Board." Led by CCNMTL Educational Technologists Michael Cennamo and Adrienne Garber, the presentation guided faculty through strategies to improve the use of discussion boards and tackled the reasons why forums and threads languish, even with the best of intentions.
"Discussion boards sometimes don't work the way we would like them to, and it may be due to factors that we never even think of. These are the things that Adrienne and I want to talk about with you today," explained Cennamo.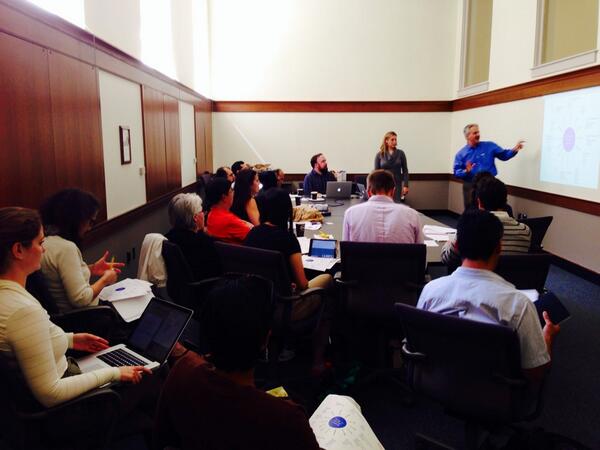 After soliciting speculations from faculty about the reasons for defunct discussion boards, Cennamo and Garber shared findings of a few seminal research studies concerning discourse, discussion boards and discursive learning. Next, the CCNMTL duo identified three root causes of defunct discussion boards for faculty to keep in mind when facilitating their own discussion boards including: (1) the arduous task of transforming face-to-face conversation into online discussion; (2) the systemic way that students approach the discussion board, which can lead to what the scholarly research terms "thread death"; and (3) the lack of cognitive and social presences.
With the desks set up in a half-moon shape, about a dozen attendees composed of faculty, teaching assistants, and educational technologists participated in lively discussion about how they approach discussion board facilitation and address discussion board challenges. The audience was exposed to several au courant discussion-based tools in addition to the standard CourseWorks discussion board feature, all for the purpose of promoting discursive learning outside the classroom.
"I love the rewired Friday noon series – focused, current research for online/hybrid courses, enthusiastic presenters who have provided us with delicious appetizers each week that encourage participants to stay for the full meal…and I plan to! Sessions have given me an opportunity to think seriously about my teaching online in new/reworked ways to enhance learning and I've wanted a way to think about this," said attendee Christine E. Pawelski, a professor at Teacher's College. "I have several Spring online courses and am completing a grant project that needs to be packaged … the rewired series has given lots of great ideas to incorporate right now and that has been fabulous."
The rewirED Series will continue every Friday at 12:00 p.m. in the Studio@Butler in 208 Butler Library through November 15. A full schedule and registration links are available here. A special "faculty showcase" will be hosted by CCNMTL on December 6, 2013 from 12:00 P.M. to 1:30 P.M. in the Studio@Butler and will include refreshments as well as presentations by faculty members of their semester-long classroom endeavors. All are welcome!


Photo courtesy of Sarohini Chahal