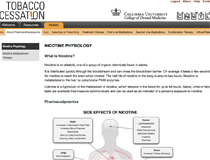 A new self-study website developed to teach dental students about tobacco cessation assessment and treatment launched this week at the Columbia College of Dental Medicine. The Tobacco Cessation site provides students with multimedia learning modules containing demonstrative videos, immediate-response quizzes, and treatment activities on tobacco cessation pharmacotherapy. Students are assigned to review the online modules independently, learning about the seven primary therapies for tobacco cessation and working through specific treatment scenarios. During a "virtual patient" activity, for instance, four patients with unique health histories are presented. Students must conduct a patient assessment and recommend the best treatment plan, which they then prescribe in an online prescription writing activity.
Students must complete the Tobacco Cessation site two weeks prior to attending a required three-hour seminar in which they review lessons learned online, act out potential treatment scenarios, and write reflections on their experience. The Columbia College of Dental Medicine is one of the few dental schools in the US that teaches about tobacco cessation. With this new site, the College and CCNMTL hope students come away with a strong understanding of available tobacco cessation pharmacotherapies and are empowered to effectively encourage tobacco cessation in their future dental practice.
The Tobacco Cessation site was developed by CCNMTL and David Albert, associate professor of clinical dentistry. CCNMTL and Albert plan to enhance the site with additional learning modules in the next year and are open to sharing the site with partnering institutions.
Related news:
Aug-17-2011: Dental Students Learn To Curb Tobacco Use