One year into a project to develop an interactive web tool to help students at the Columbia University College of Dental Medicine make future career decisions, user feedback is providing insight into its positive effects as well as guidance for future project developments.
The project is called PASS, which stands for a Population-Based Approach to Patient Service and Professional Success. PASS is a collaboration between the Columbia Center for New Media Teaching and Learning and Drs. Burton Edelstein and Courtney Chinn, both faculty at CDM.
Dental students In Dr. Edelstein's Fall 2011 Oral Health Care Delivery course were asked to complete activities through the PASS website that encourage them to think about how real-world issues like community demographics relate to decisions about where and how to build a dental career.
Students watched documentary-style videos of "exemplars" (successful, practicing dentists), navigated interactive fictional maps based on realistic data showing demographic information and locations of existing dental practices, and practiced creating career plans based on community needs and the dentist's career and life goals. The activities took about an hour to complete.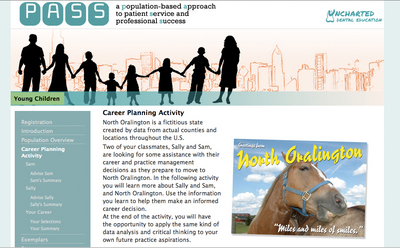 Cindy Smalletz, an educational technologist at
CCNMTL
who has worked closely with
CDM
faculty on the project, says
PASS
was designed both to provide practical education for future dentists and to make students aware of ways they can address
disparities in access to dental care
that exist in many
U.S.
communities.
Feedback on the exercises indicated students found PASS to be a creative and engaging way to introduce dental public health issues while providing useful guidance for career planning. Students described the online activities as well-designed, fun, and thought-provoking, and said PASS addressed content otherwise lacking from their curriculum. Students also commented that the online exercise helped them realize that serving diverse populations can be part of a successful, fulfilling career.
PASS's developers, for their part, are happy to get feedback that can inform future project development. The PASS project is still in the early stages of development; a $1.3 million grant will support PASS for a total of five years. Year one focused on young children, and subsequent years will focus on adolescents, disabled adults and children with special needs, community-dwelling older adults, and frail or homebound older adults.
Since receiving the student feedback, CCNMTL and CDM project staff have decided to make the interactive maps more user-friendly and to be particularly careful to select compelling "stars" for the exemplar videos. "Students had very positive responses to the exemplar videos. As we go into year two, we're carefully picking exemplars because we know how much of an impact they can have on students," Smalletz said.
PASS is funded by a grant from the Health Resources and Services Administration (HRSA) for the training of pre-doctoral dentists.