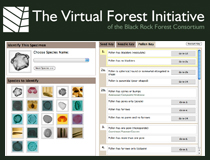 August 4, 2010. Dr. Terrayanne Maenza-Gmelch is presenting web-based tools from the Virtual Forest Initiative at the 95th Annual Ecological Society of America Meeting this week. Dr. Maenza-Gmelch is a lecturer and co-director of labs in the Environmental Science Department at Barnard College. She has partnered with CCNMTL to develop online teaching modules for the Virtual Forest Initiative focused on paleoecology, which is the study of ancient organisms and their environment. At the meeting, Dr. Maenza-Gmelch will demonstrate how the Paleoecology Module introduces students in Barnard's undergraduate environmental science course to concepts such as pollen morphology and sediment sampling with interactive online visualizations and learning tools.
Dr. Maenza-Gmelch will also explain how students benefit from engaging with the Virtual Forest tools. In the meeting abstract, she notes "The Paleoecology Module provides to the student a means for learning the discovery process inherent in reconstructing a forest's ecosystem using paleoecological techniques without the time and resource constraints that make actual sediment coring and pollen processing impossible in a classroom setting." Learn more about the Paleoecology Module in the announcement, Barnard Students Engage with New Virtual Forest Module.
The Virtual Forest Initiative is currently in the process of expanding with new ecological and environmental science learning modules developed by CCNMTL in collaboration with Barnard College and Columbia University faculty. Learn more about the Virtual Forest Initiative.
Related news:
May-16-2014: Video: Virtual Forest Tools Enhance Science Learning and Research
May-02-2013: With Virtual Forest Initiative, NYC Students Become Citizen Scientists
Mar-05-2013: Connecting NYC Students to the Forest, Virtual and Real
Mar-02-2011: Toyota Foundation Grant Enhances Science at Harlem HS
Mar-11-2010: Barnard Students Engage with New Virtual Forest Module
Jul-09-2009: Virtual Forest Initiative Modules Piloted at Columbia University
Jan-14-2009: CCNMTL Develops Educational Materials and Technologies for the Virtual Forest Initiative