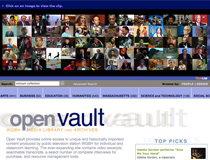 April 15, 2010. WGBH Boston announced the public release of the Vietnam Collection, an online video library comprising WGBH's 1983 landmark series, Vietnam: A Television History. The Vietnam Collection is at the center of Project Vietnam - a joint collaboration between CCNMTL, WGBH Media Library and Archives, and the University of Massachusetts/Boston to provide professors and students hands-on engagement with digitized source materials from the Vietnam: A Television History series.
The Vietnam Collection, accessible on the newly designed Open Vault website, contains hundreds of hours of original interviews and stock footage from the 13-hour series. While much of the series' interview materials and stills were previously unavailable to the public, the launch of the Vietnam Collection has enabled students, researchers, educators, and the general public to access the collection's resources.
At Columbia, professors in Teacher College, the Graduate School of Journalism, the Department of History, and the Department of East Asian Languages and Cultures have partnered with CCNMTL to build curricular models that incorporate the Vietnam Collection in their courses. Students in Teachers College, for instance, are using CCNMTL-developed analysis tools to annotate, edit, and incorporate clips from the Vietnam Collection into multimedia lesson plans. Read the WGBH press release and learn more about Project Vietnam.
Related news:
Jul-27-2011: Project Vietnam Site Launched
Jun-03-2011: Special Event: Recapping Project Vietnam
Aug-05-2010: The Chronicle of Higher Education Highlights Vietnam Collection
May-03-2010: The Vietnam Collection Featured in New York Times
Mar-03-2010: Project Vietnam Presented at WebWise Conference
Aug-26-2009: CCNMTL Faculty Partners Call for Media Literacy in Education
Jun-29-2009: Project Vietnam Launches at Teachers College
May-12-2009: CCNMTL Project Analyzing Vietnam War Documentary Footage Highlighted in Teachers College Article
Jun-25-2008: CCNMTL Collaborates with WGBH and UMASS Boston to Activate Vietnam Digital Archive