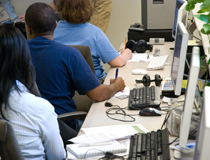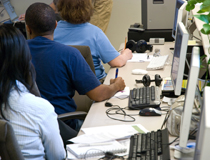 March 23, 2010. Whether you're wrapping up your courses this spring or getting a head start on next semester, come learn how EdBlogs@Columbia and Columbia Wikispaces can be used to achieve your teaching goals. Register for the EdBlogs and Wikispaces: Getting Started workshops and receive hands-on instruction on how to use these digital teaching tools in your classroom.
EdBlogs@Columbia: Getting Started
Discover EdBlogs@Columbia, a blogging platform available to every course at Columbia. EdBlogs can be used to conduct student journaling, share course-related resources, promote student collaboration, and much more. At this workshop, you'll see how Columbia professors are using blogs to enhance teaching and learning. You'll also learn about the basics of starting and managing a course blog. This workshop is on Thursday, April 1, 2010 at 10:00AM - 11:15AM. Register Now.
Columbia Wikispaces: Getting Started
Launched in 2007, Columbia Wikispaces has become a popular tool for faculty and students to easily create and share collaborative webpages containing course-related text, images, and video. Wikis are a great tool for students and faculty to collaborate and communicate outside of the classroom. The Columbia Wikispaces workshop will provide you with an understanding of how wikis are useful and how to create one of your own. This workshop is on Thursday, April 1, 2010 at 11:30PM - 12:45PM. Register Now.