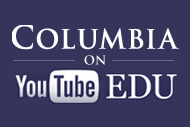 December 9, 2009. The Columbia on YouTube channel is one of a handful of YouTube educational partners that have been enabled to use the recently announced automatic captioning features. Auto-captioning will improve accessibility to deaf and hearing-impaired Internet users. Non-English speaking users can also translate the captions into their native language using Google's translation tool.
Automatic captions relies on an automatic speech recognition (ASR) technology to generate text captions with about 65 percent accuracy, however Google engineers have assured improvements to the technology over time. Along with Columbia, YouTube partners implementing this feature include UC Berkeley, Stanford, Yale, and a small group of other educational-themed channels.
Complementing the ASR technology is automatic caption timing, or "auto-timing," allowing the upload of an existing text transcript to be synchronized with the video. Learn more about automatic captions and auto-timing in the EnhancED article, A Look at YouTube's Automatic Captioning Features. Or, read the article, Google to Add Captions, Improving YouTube Videos, posted on the New York Times website.
Related news:
Oct-09-2013: CU Public Affairs Now Managing Columbia YouTube Channel
May-29-2012: Columbia YouTube Channel Hits 2 Million Views
Mar-13-2012: Columbia, CCNMTL YouTube Channels Get New Look
Mar-24-2010: Columbia on YouTube Expands with New Videos
Sep-14-2009: CCNMTL Launches Columbia's Channel on YouTube EDU