Visitors to Columbia University's and CCNMTL's YouTube channels will notice a new look, part of the popular video-sharing site's recent design updates. The channel homepages now display a large featured video followed by a list featured playlists. Visitors to a channel can select two alternate views: Videos and Feed. The Videos view shows a grid of all individual videos uploaded and lets users sort them by date added or popularity. The Feed view shows all videos uploaded to the channel and allows users to enter comments.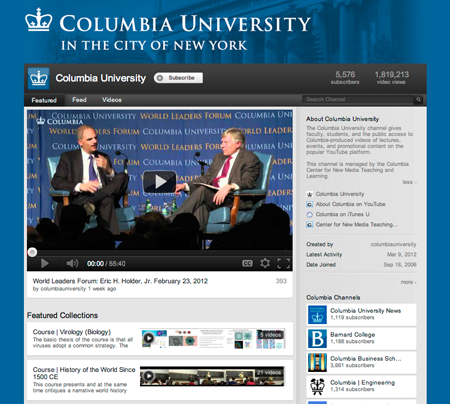 YouTube has also added a feature to let users link video channels directly to social media platforms such as Facebook, Google+, and Twitter.
These updates follow design changes YouTube launched in December 2011 to improve the site's navigation and visual appeal. The December redesign included the addition of gray navigation bars and a left sidebar with basic channel information, related links, and featured channels.
The Columbia University YouTube channel provides faculty, students, and the public access to Columbia-produced videos of lectures, events, and promotional content.
CCNMTL's YouTube channel features demonstrations of the Center's projects, tutorials, and recordings of conferences and other events.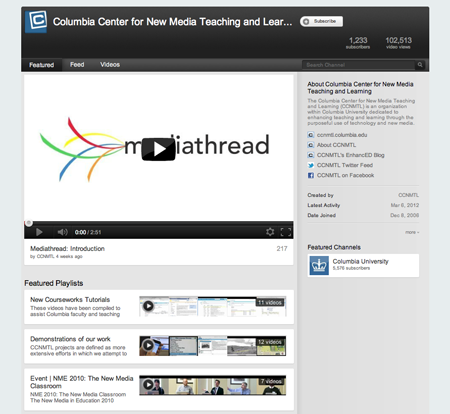 Related news:
Oct-09-2013: CU Public Affairs Now Managing Columbia YouTube Channel
May-29-2012: Columbia YouTube Channel Hits 2 Million Views
Mar-24-2010: Columbia on YouTube Expands with New Videos
Dec-07-2009: Columbia on YouTube Now Offers Auto-Captioning
Sep-14-2009: CCNMTL Launches Columbia's Channel on YouTube EDU