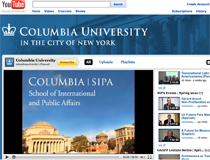 March 24, 2010. This semester, CCNMTL has launched a broader effort to enhance Columbia on YouTube EDU so that students, alumni, and the world can tune into campus happenings like lectures, conferences, and special events. YouTube EDU has become an increasingly popular service at all universities, and here at Columbia, we're pleased to report on significant progress made possible with help from Columbia schools and departments. In just the last month, Columbia on YouTube EDU has grown to include:
Many more video collections from campus groups are scheduled to be released on YouTube
EDU
in the coming weeks. Visit
Columbia on YouTube

EDU
to view the latest video collections.
Related news:
Oct-09-2013: CU Public Affairs Now Managing Columbia YouTube Channel
May-29-2012: Columbia YouTube Channel Hits 2 Million Views
Mar-13-2012: Columbia, CCNMTL YouTube Channels Get New Look
Dec-07-2009: Columbia on YouTube Now Offers Auto-Captioning
Sep-14-2009: CCNMTL Launches Columbia's Channel on YouTube EDU