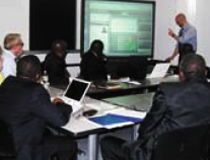 February 22, 2010. A CCNMTL project developed with the Center for International Conflict Resolution (CICR) is the focus of a recent Record article. In Web-based Training Aims to Help Prevent Genocide, author Donna Cornachino explains the objectives and implementation of Country X, a project released in 2009.
Country X is a web-based educational simulation created in response to challenges surrounding the training and education of prospective genocide prevention practitioners. The simulation, developed in partnership with Professor Aldo Civico and deployed by CICR program coordinator Mark Whitlock, takes place in a fictitious nation experiencing rapid instability called Country X. Students in the course "Prevention of Mass Killing" work in groups with each student assuming the identity of one of four characters representing the perspectives of diplomatic, intelligence, military, and civil society communities. After analyzing a starting condition, players must address the situation from within their role by independently making a strategic policy decision and providing a rationale for it.
In the article, CCNMTL educational technologist Tucker Harding shares one of the overarching goals of the project: "In a course that has a word like 'preventing' in it, there's a need to empower students to do something, not just know something. As part of a growing theme at Columbia to move certain courses from theory to practice, CCNMTL and our faculty partners are finding ways to bridge that gap." Read the full story here.
Related news:
Feb-25-2014: Central European Nations Use Tool Developed by CCNMTL for Genocide Prevention Training
Jul-15-2013: Article on Country X Published in Simulation & Gaming
May-07-2012: CCNMTL Simulation Projects Presented at Natural Resource Management Workshop
Oct-19-2009: CCNMTL and CICR Present Country X Simulation to West African States
Apr-29-2009: CCNMTL Collects Feedback on Educational Tool for the Prevention of Mass Killing