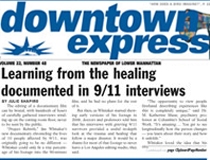 April 13, 2010. In a recent Downtown Express article, author Julie Shapiro examines how the soon-to-be released Project Rebirth documentary is impacting teaching and learning at Columbia University and Georgetown University.
The article, Learning from the Healing Documented in 9/11 Interviews, depicts filmmaker Jim Whitaker's quest to chronicle the recovery of nine people affected by 9/11 and the rebuilding of the World Trade Center. For seven years, Whitaker collected hundreds of hours of interview footage of the nine subjects as well as time-lapse photography from the World Trade Center site, leaving him with an abundance of film for the feature length Project Rebirth documentary. In an effort to build upon the educational significance of the documentary, the nonprofit Project Rebirth organization partnered with CCNMTL and the Center for New Designs in Learning and Scholarship (CNDLS) at Georgetown University to make the original, uncut footage available to professors, students, and clinicians.
Throughout the article, Shapiro describes Project Rebirth's educational initiative and sheds light on the various ways that professors at Columbia and Georgetown are using Project Rebirth in their classrooms: "Psychiatrists can study symptoms of grief and the success of the survivors' coping mechanisms. Linguists can study the way men and women communicate differently about trauma. Anthropologists can analyze the subjects' cultural background and how that affected their response and healing."
The article also highlights plans for a new website for the Project Rebirth Center – an online resource for first responders, grief professionals, victims, educators, and students, featuring a wide range of resources including interview footage from the film and spaces for connecting individuals and organizations. In reference to the planned center, CCNMTL Executive Director Frank Moretti said, "[We want to] develop methods that would make it easier to respond to massive traumatic events, whether that's 9/11, or the tsunami, or Haiti." CNDLS Executive Director Randy Bass also shared his thoughts on how the center can benefit victims, survivors, and bystanders noting, "We run to the Web for solace, for information for other people with similar stories."
Read the full article and learn more about the Project Rebirth Educational Initiative at CCNMTL.
Related news:
Apr-24-2012: Newsletter Features Project Rebirth
Oct-27-2011: Film Screening: REBIRTH
Feb-11-2011: Project Rebirth Premieres at Sundance Film Festival
Mar-29-2010: Project Rebirth Hosts Reception for CCNMTL
Sep-15-2009: Project Rebirth Founder Jim Whitaker in the News
Sep-11-2009: Project Rebirth Gets Local Attention in Roslyn News
Apr-13-2009: CCNMTL Hosts Project Rebirth Event and Preview in Miller Theatre on April 15
Dec-16-2008: With Project Rebirth Columbia and Georgetown Offer Students a Closer Look at Post 9-11 Recovery