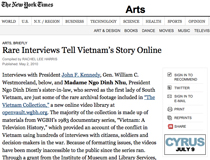 May 3, 2010. The New York Times' Arts Briefly section recently featured the launch of the Vietnam Collection, the online video library developed and disseminated by a partnership between the WGBH Media Library and Archives, the University of Massachusetts in Boston, and CCNMTL.
The article, Rare Interviews Tell Vietnam's Story Online, describes the Vietnam Collection's robust digital repository containing previously unavailable original interviews and stock footage from WGBH's 1983 landmark series, Vietnam: A Television History. With a grant from the Institute of Museum and Library Services, CCNMTL joined WGBH and the University of Massachusetts in Boston to make the collection available to the public on WGBH's OpenVault website and used for educational purposes at Columbia University and other interested institutions.
Read the New York Times article here and learn more about the Vietnam Collection and Project Vietnam.
Related news:
Jul-27-2011: Project Vietnam Site Launched
Jun-03-2011: Special Event: Recapping Project Vietnam
Aug-05-2010: The Chronicle of Higher Education Highlights Vietnam Collection
Apr-15-2010: WGBH Launches the Vietnam Collection
Mar-03-2010: Project Vietnam Presented at WebWise Conference
Aug-26-2009: CCNMTL Faculty Partners Call for Media Literacy in Education
Jun-29-2009: Project Vietnam Launches at Teachers College
May-12-2009: CCNMTL Project Analyzing Vietnam War Documentary Footage Highlighted in Teachers College Article
Jun-25-2008: CCNMTL Collaborates with WGBH and UMASS Boston to Activate Vietnam Digital Archive