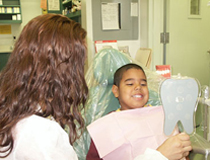 January 4, 2010. The Columbia Center for New Media Teaching and Learning (CCNMTL) will receive $244,998 of a $1 million grant from the National Institute of Health's Challenge Grants in Health and Science Research initiative to create and pilot an electronic, interactive tool that assesses children's risk for tooth decay and assists families in managing that risk.
The Early Childhood Caries Risk Assessment Tool will be researched and developed in partnership with Dr. Burton Edelstein, clinical professor at Columbia's College of Dental Medicine and School of Public Health and the principal investigator of the Challenge Grant. These newly offered grants are funded by the American Recovery and Reinvestment Act of 2009 and support research on scientific and health challenges in biomedical and behavioral science and public health.
Over the next two years, CCNMTL and Dr. Edelstein will research, build, and test the algorithm-based tool designed for community health workers to assess a child's oral health and recommend an individualized intervention. Community health workers will use the tool with parents of young children in low-income communities to determine a child's risk for cavities and to negotiate a treatment plan. Additionally, the tool will be used to track behavioral data, for instance fluoride regimens and nutritional intake, to evaluate a child's oral health over time.
"Individual health will result from more effective management of disease risk and progression using cost-effective technologic and peer-counseled interventions. This research aims to address gaps between information and behavior and between instruction provided by clinicians to families of young children who suffer from chronic diseases and these families' capacities to act on that information," said John Zimmerman, assistant dean for information resources at the College of Dental Medicine and CCNMTL associate director.
Under the auspices of the Triangle Initiative – CCNMTL's strategic effort to create digital tools and capacities that serve the intersecting interests of education, research, and the larger community – the Center and Dr. Edelstein aim to incorporate the Early Childhood Caries Risk Assessment Tool for student use in courses at Columbia's College of Dental Medicine. Pediatric dental students, for example, may utilize the tool in practice settings and provide feedback on the tool's efficacy during the pilot-testing phase.