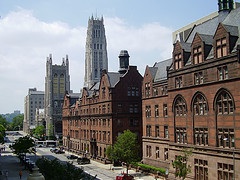 October 8, 2009. The Columbia Center for New Media Teaching and Learning (CCNMTL) will receive a share of a $9.75 million Teacher Quality Partnership grant awarded to Teachers College by the US Department of Education (DOE) under the American Recovery and Reinvestment Act. The funds will be used to support the new Teaching Residents at Teachers College (TR@TC) program as part of the DOE's initiative to strengthen teacher preparation and improve the quality of teaching nationwide.
The Center will receive approximately $275,000 over five years to develop a series of workshops on effective uses of technology in education for students in the TR@TC program. Directed by A. Lin Goodwin, Teachers College's associate dean for teacher education and school-based support, the TR@TC program is designed to train individuals from underserved groups, including returning vets, returning Peace Corps volunteers, and mid-career changers, to become exemplary educators in high-needs high schools throughout the US.
A key feature of TR@TC is its focus on training future teachers to create innovative curricula for students in high-needs schools. The TR@TC workshop series, designed and led by CCNMTL educational technologists, will present strategies and best practices for incorporating new media and technology in classrooms. Educational technologists will also demonstrate various tools deployed at Columbia University and in schools throughout the country to facilitate education. Mapping the African American Past (MAAP), for instance, is a website developed by CCNMTL and Teachers College to teach African American history through online maps, images, video, and text. Multimedia sites like MAAP, along with blogs, wikis, and VITAL —a web-based video analysis and communication system developed by CCNMTL and Teachers College Professor Herb Ginsburg—will be explored throughout the workshop series.
"These workshops will help participants acquire not only specific skills and the ability to use particular tools but, most importantly, they will cultivate the confidence and understanding of how to incorporate technology successfully in teaching as the world changes at an increasingly rapid pace," said CCNMTL Executive Director Frank Moretti.
Program planning for TR@TC is currently underway and the first round of students will be admitted for the 2010 fall semester. For more information about TR@TC, read TC Receives a $9.75 Million Federal Grant to Create an Urban Teaching Residents Program. For more information about CCNMTL's teaching tools and projects, visit the Center's Project Portfolio.
Photo courtesy of maxvt .