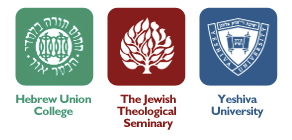 The Columbia Center for New Media Teaching and Learning (CCNMTL) is partnering with the Jewish Theological Seminary's Davidson Graduate School of Jewish Education, Hebrew Union College - Jewish Institute of Religion, and Yeshiva University to offer an inter-institutional eLearning Faculty Fellowship to support the design and implementation of educational technology projects in the three partner institutions.
The fellowship program will be offered over two years and will target faculty of the schools of education and related disciplines at each institution. Approximately 20 faculty from the three institutions will be selected through an application process to comprise a cohort of fellows.The first fellowship will begin in April of this year.
Each cohort will attend five in-person and five online workshops to learn strategies, tools, and approaches for using educational technologies to improve student engagement and learning. CCNMTL staff will facilitate the in-person workshops, which will be based on seminars on teaching with technology the Center currently offers to Columbia faculty.
Each fellow will design and implement an educational technology project in his/her own teaching with the support of the home institution. Fellows will receive individual assistance with projects through weekly virtual office hours with CCNMTL staff. The fellowship will culminate in two showcase events at which fellows will demonstrate the projects they have developed.
A final component of the partnership is a monthly round-table gathering of the leadership of the three institutions with CCNMTL directors to discuss strategic and tactical directions around educational technologies.
The fellowship is sponsored by the Jim Joseph Foundation, a philanthropic organization dedicated to supporting the education of Jewish youth and young adults in the United States.
The fellowship builds on an existing CCNMTL partnership with JTS launched in 2011 to promote the the use of technology and new media in teaching and learning at JTS.
Related news:
Jul-31-2014: ISTE 2014 Conference Draws CCNMTL Educational Technologists
Apr-09-2014: Faculty from Jewish Higher Ed Institutions Showcase Ed Tech Projects
Jun-26-2013: Exploring Digital Tools for Jewish Education and Scholarship