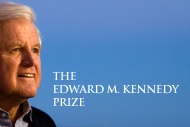 This month the Columbia Center for New Media Teaching and Learning launched two new websites dedicated to the inaugural winning plays of the Edward M. Kennedy Prize for Drama Inspired by American History: Dan O'Brien's The Body of an American and Robert Schenkkan's All the Way. The websites showcase the plays' relationship to United States history and encourage public exploration of current issues grounded in historical understanding.

The award, known as the EMK Prize, was created by Ambassador Jean Kennedy Smith to honor the life and legacy of her brother Ted Kennedy, the late senator from Massachusetts. The prize is administered annually through Columbia University Libraries/Information Services and consists of a $100,000 award as well as an educational website to promote understanding of the works.

All the Way, by Pulitzer Prize-winner Schenkkan, depicts a period of great turmoil and consequence in American history, from the assassination of President John F. Kennedy in November 1963 through election night in 1964. Its story is told by many individuals who shaped that year's critical moments, including Martin Luther King Jr., Hubert H. Humphrey, J. Edgar Hoover, and most prominently, President Lyndon B. Johnson, who deftly guided landmark civil rights legislation through a divided Congress. All the Way premiered at the Oregon Shakespeare Festival in 2012.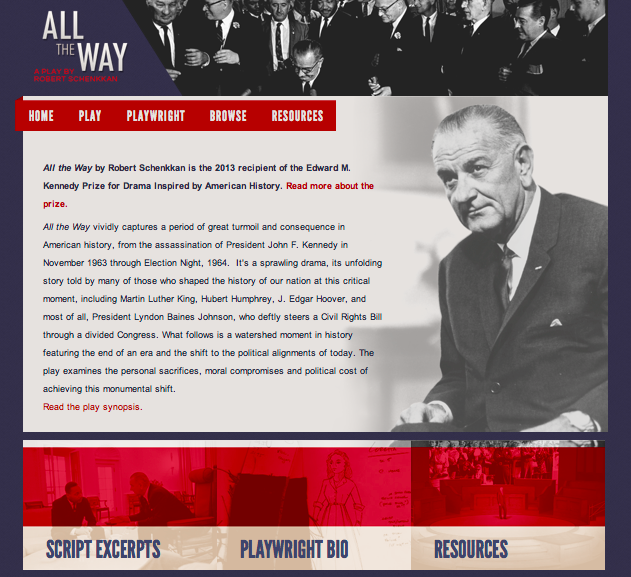 O'Brien's The Body of an American speaks to a more recent moment in history, when a single, stark photograph — that of the body of an American soldier dragged from the wreckage of a Blackhawk helicopter through the streets of Mogadishu, Somalia, in 1993 — by photographer Paul Watson reshaped the course of global events. O'Brien explores the ethical and personal consequences of Watson's photograph, as well as the interplay between political upheaval and the experience of trauma in an age saturated by images and information. The Body of an American premiered at Portland Center Stage in 2012.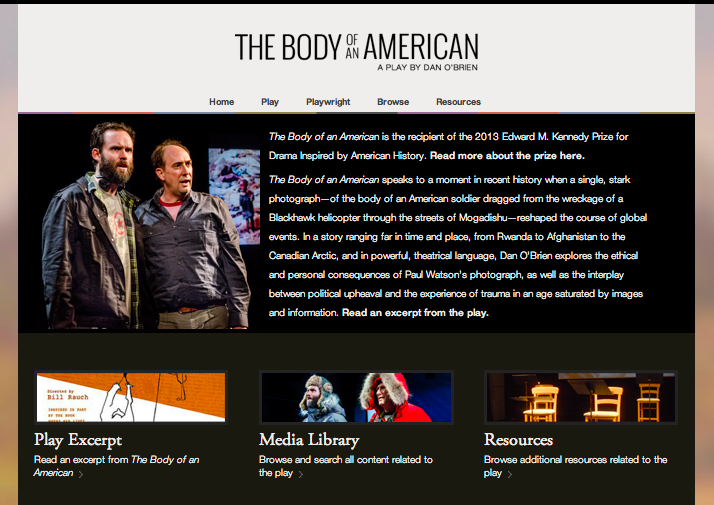 The websites feature extensive video interviews with each playwright in which they talk in depth about the writing process, character creation, historical research, and production decisions. Visitors can access resources related to the plays such as costume design sketches from the original productions, critical essays, and historical images. In addition, CCNMTL worked with faculty and students from Teachers College, Columbia University to build learning activities that guide individuals through an exploration of the historical sources on which scenes within each play are based.
"Theater is a wonderful way to bring to life the political and historical events that shape our struggles and achievements as a nation," said Ambassador Smith. "Theater enlivens these momentous stories and connect them to today's events in the way that only theater does. I hope that the prize and these web sites will foster lively and rigorous exploration of American history and politics, allowing all to share in the history-making events of our times, and in doing so, take on the responsibility of making our voices heard, which my brother believed was the responsibility of not just elected officials, but all Americans."
Related news:
Oct-08-2014: Columbia University Launches Website Dedicated to 2014 Edward M. Kennedy Prize Winner
Mar-20-2014: Video: Dominique Morisseau Discusses Winning the Edward M. Kennedy Prize