NEW YORK, June 27, 2013 - Enrollment has opened for Columbia University's fourth course to be offered as a massive open online course (MOOC) as part of a University-wide partnership with Coursera. The course, Virology I: How Viruses Work, taught by Microbiology Professor Vincent Racaniello, will start on August 1, 2013. Approximately 6,000 individuals have already enrolled.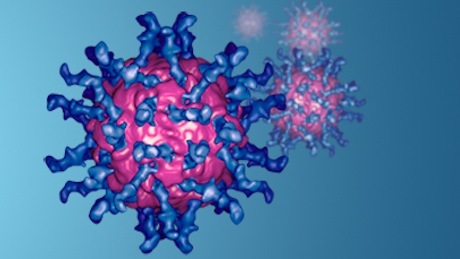 Racaniello's 11-week course will introduce students to the common reactions that must be completed by all viruses for successful reproduction within a host cell and survival and spread within a host population. A continuation course, Virology II: How Viruses Cause Disease, is planned for later this year.
Racaniello has previous experience with online courses: he has offered Virology through iTunes U Courses for several semesters, and it has become one of iTunes U's top science offerings.
"I decided to teach virology on Coursera because I want to be Earth's virology professor," said Racaniello. "I strongly believe that the general public must understand as much as possible about viruses, so they can participate in the debate about issues that impact them, such as vaccination, influenza H5N1, and the new coronavirus CoV-MERS. I've taught hundreds of Columbia University students virology, nearly 100,000 others via iTunes U, and Coursera will bring it to the next level."
The Columbia Center for New Media Teaching and Learning (CCNMTL) is helping Racaniello adapt the course content for Coursera. CCNMTL's educational technologists are looking for ways to use Coursera's features—such as in-line video quizzes, assignments, transcripts, and captions—to make the course effective and engaging for students.
"By placing our experienced educational technologists side by side with the professor, we plan to build the virology course with the goal of learning how to best leverage the Coursera platform to improve learning," said Maurice Matiz, CCNMTL's vice executive director. "We will draw on one of CCNMTL's tenets, building to learn, to help us plan future online learning efforts."
In addition, Racaniello and CCNMTL will use the metrics Coursera provides about how students use and learn with the platform to adjust the course as it progresses. A teaching assistant will monitor and respond to the course's discussion boards, providing additional content support for the students.
In Spring 2013, three Columbia engineering courses marked Columbia's first foray into offering free, public courses on Coursera. A fifth course, Big Data In Education, will be taught by Ryan S.J.d. Baker of Teachers College, Columbia University starting on October 24.
About CCNMTL
The Columbia Center for New Media Teaching and Learning (CCNMTL) was founded at Columbia University in 1999 to enhance teaching and learning through the purposeful use of technology and new media. In partnership with faculty, the Center supports efforts ranging from basic course website management to advanced project development. CCNMTL also extends the scope and reach of its work with strategic initiatives that engage educators, researchers, librarians, partner institutions, and the community in the reinvention of education for the digital age. CCNMTL is part of the Columbia University Libraries/Information Services. For more information, please visit http://ccnmtl.columbia.edu
CONTACT: c.lockemer@columbia.edu, 212-854-7783
Related news:
Aug-23-2013: Who's Taking Columbia's Virology I MOOC?
Aug-01-2013: Virology on Coursera Starts Today