September 22, 2009. The Columbia Center for New Media Teaching and Learning (CCNMTL) added EdBlogs and Wikischolars, the latter in partnership with the Center for Digital Research and Scholarship (CDRS), to the suite of course management and collaboration tools available to Columbia instructors this fall semester.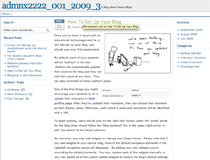 EdBlogs, Columbia University's new educational blogging tool, provides a blog for every course at the University. Blogs make it easy to share course content and create an online community for students and instructors. They also can support a range of teaching objectives, from student journaling to reflective writing assignments. EdBlogs is powered by WordPress, a popular blogging platform known for its flexibility and versatility. Every blog consists of simple templates and online editing tools to add text and media, enabling students to create, update, and revise entries.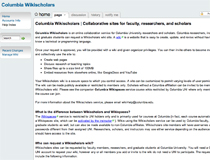 CCNMTL and CDRS are partnering to support Wikischolars, a complement to Columbia Wikispaces designed to provide faculty with an option for publicly accessible wikis. This platform offers similar features as Columbia Wikispaces; faculty and students can add content and edit web pages dedicated to a specific course. Unlike Wikispaces, however, the new Wikischolars enables non-Columbia affiliates to join the course wiki, making the platform ideal for courses that require collaboration from users outside of the University. Wikischolars is also being piloted for Columbia's research community as a space to conduct scholarly collaborations.
CCNMTL demonstrated EdBlogs and Wikischolars to more than 80 faculty members at its recent Fall Premiere 2009 event and will be holding workshops on these tools. To learn more, visit http://edblogs.columbia.edu and http://wikischolars.columbia.edu.