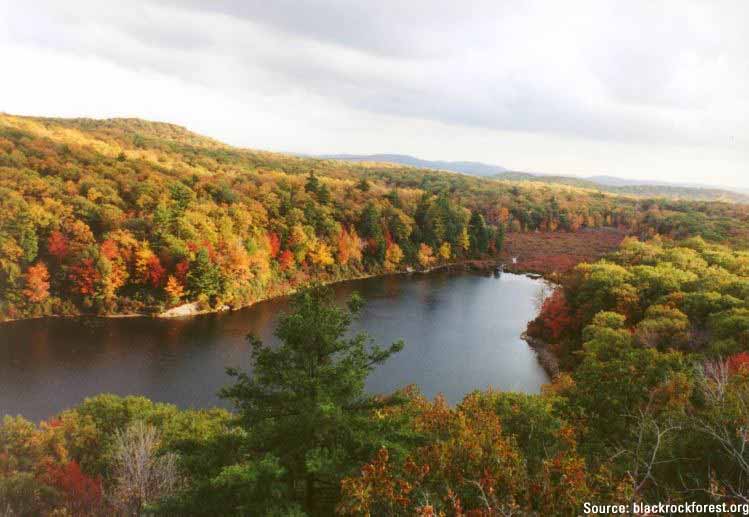 View of Black Rock Forest
The Toyota Foundation awarded the Black Rock Forest and the Columbia Center for New Media Teaching and Learning (CCNMTL) a 3-year grant of $500,000. Of that amount, CCNMTL will receive $65,000 to implement the Center's custom-developed educational modules based on data from the Black Rock Forest in a series of high schools and middle schools throughout Harlem, New York.
CCNMTL has teamed up with Dr. William Schuster, executive director of Black Rock Forest, and Mauricio Gonzalez, lead science teacher, to carry out this project, and will begin working on a new module on water chemistry throughout the spring 2011. The full grant from the Toyota Foundation also supports class field trips to the Black Forest, where students can experience the forest first-hand and apply what they have learned from the online modules.
"We are thrilled to extend the reach of these unique learning tools to Harlem science students and to continue enhancing students engagement with the rich resources and educational opportunities available at Black Rock Forest," said Frank Moretti, CCNMTL executive director and president of the Black Rock Forest Board of Directors.
"Combining hands-on learning activities in nature with innovative new digital tools that let students work with actual research data is proving to be a wonderfully effective means for teaching and learning real-world science," said Dr. Schuster.
The Black Rock Forest, located 50 miles north of New York City in the Hudson Highlands, offers a natural laboratory that comprises 3,830 acres of forest for scientific researchers, educators, students, and the public to visit and study. In 2007, CCNMTL partnered with the Black Rock Forest Consortium to create the Virtual Forest Initiative—a project aimed at supporting and enhancing research, education, and community activities at the Black Rock Forest. In partnership with professors from Columbia University and Barnard College's Earth and Environmental Sciences Department, CCNMTL developed four interactive online educational modules that provide students with lessons on environmental science practices, such as conducting forest sampling, understanding and analyzing tree respiration, and identifying pollen grains and plant macrofossils. These are being used in several courses at the University and are also open to the public.
Learn more about the Virtual Forest Initiative at http://blackrock.ccnmtl.columbia.edu/portal.
Related news:
May-16-2014: Video: Virtual Forest Tools Enhance Science Learning and Research
May-02-2013: With Virtual Forest Initiative, NYC Students Become Citizen Scientists
Mar-05-2013: Connecting NYC Students to the Forest, Virtual and Real
Aug-05-2010: Virtual Forest Initiative Featured at the Ecological Society of America Meeting
Mar-11-2010: Barnard Students Engage with New Virtual Forest Module
Jul-09-2009: Virtual Forest Initiative Modules Piloted at Columbia University
Jan-14-2009: CCNMTL Develops Educational Materials and Technologies for the Virtual Forest Initiative