Each year, more than 200 faculty members consult with our staff to create customized educational technology solutions for their classes. This week at the Center we celebrated seven of those faculty partnerships formed through our rewirED workshop series at the CCNMTL rewirED Spring 2014 Faculty Showcase held on April 25.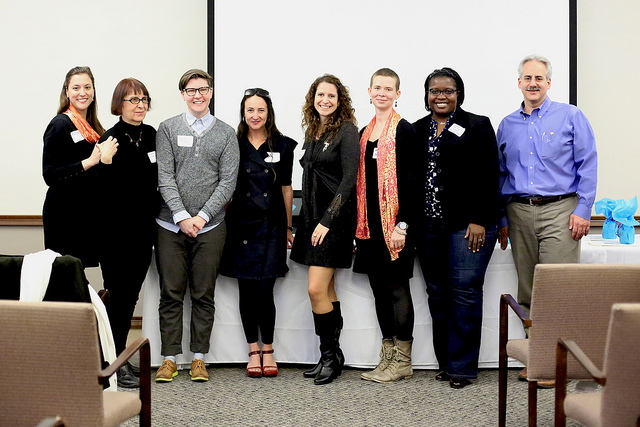 Faculty showcases are some of our favorite events because they are inspiring for both our staff and and the larger university community. At this week's showcase, the faculty members represented a variety of disciplines, from humanities to professional schools, but their projects exhibited some common themes, including collaboration, incorporating multimedia in course materials and writing assignments, and helping students create content for a public audience on the internet. These themes align with key trends identified in the New Media Consortium's 2014 Horizon Report for Higher Education, underscoring the importance of participant and Social Work professor Tamarah Moss-Knight's observations that the rewirED sessions had helped her form a community of inquiry to support continued innovation in her teaching.
Other recent showcases have included the March 24 presentation by 18 members from three institutions of Jewish higher education— Hebrew Union College, Yeshiva University, and the Jewish Theological Seminary -- of their work with CCNMTL staff in the e-Learning Faculty Fellowship program. And in December, four faculty participants in the Fall rewirED series also presented their semester long projects.
Also this week: Maurice Matiz, CCNMTL's acting executive director, gave a talk on the online learning landscape to the Alumni Relations Committee at the Columbia Alumni Center. The talk was followed by an engaging discussion highlighting the benefits of these efforts to alumni. Plans were made to continue discussion and promotion of online learning offerings, particularly around massive open online courses (MOOCs) for alums.
Coming up: On May 5, the Center will host an invitational symposium, Moving Images and the (Digital) Humanities: Toward Best Practices for Teaching and Learning, on issues of how best to support the evolving role of digital media in higher education.