This week we've been thinking a lot about the use of social media for teaching and learning, thanks to an interview with Reyes Llopis-Garcia, lecturer in language and the Co-Director of the Spanish Language Program at Columbia University. Prof. Llopis-Garcia began using Twitter with her students through CCNMTL's rewirED workshop series and subsequently found it helpful for professional networking and research as well. As her experience suggests, the growth of platforms such as Twitter as hubs for professional knowledge exchange and networking is increasing their appeal as learning and research tools for both students and faculty.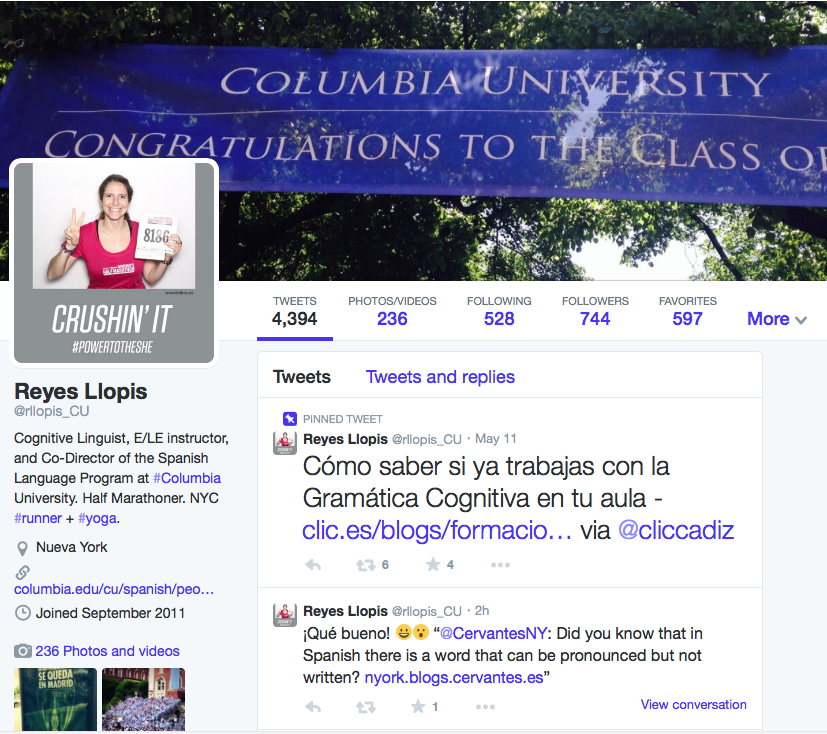 Reyes Llopis-Garcia on Twitter


Social media and language learning are a natural fit in many ways. The technology platforms are familiar ones that allow language learners to practice linguistically-focused exchanges in a real-world context and create opportunities for them to benefit from interaction with native speakers. And these same features offer professional development benefits for language teachers as well: they have been flocking to Twitter on Thursday evenings since 2011 for the popular #langchat discussion.
These developments can be traced to the more general pedagogical trends toward active learning and building personal learning networks, both areas in which Center staff routinely work with faculty. And if the popularity of our workshops on using social media to support these practices are any indication, thoughtful uses of tools like Twitter may soon become much more common for teaching, learning, and research.
Also this week:
A new video features scientists, educators, and students sharing how the Virtual Forest Initiative, a product of a partnership between CCNMTL and the Black Rock Forest Consortium, has enhanced teaching, learning, and research at Columbia University, Barnard College, and New York City middle and high schools.
On May 27, Barnard Professor Perry Mehrling will offer a second iteration of his popular Coursera MOOC "Economics of Money and Banking". The two-part series was first offered last fall and was listed by Lifehacker.com as one of the best free online classes available on the Web. The seven-week course will give students an introduction to a "money view" of economic activity for modern times, building on the intellectual traditions of British central banking and American institutionalism.