Innovation is an enduring theme of our work here at the Center. As many of our key initiatives illustrate, we use our unique vantage point -- serving faculty at the Morningside and Medical Center (CUMC) campuses as well as Columbia affiliates Teachers College and Jewish Theological Seminary (JTS) -- to be a conduit of innovative ideas across disciplines and technologies.
At the forefront of our recent efforts is our partnership with the Provost's office to offer a series of grants to support Hybrid Learning Course Redesign and Delivery. Faculty have been invited to apply for grants of $5K-$20K, accompanied by in-kind support from the Center, to redesign the delivery of their courses using innovative, technology-rich pedagogy and learning strategies. Our educational technologists are currently helping faculty with their project plans, which will be reviewed by a faculty committee. Winning proposals will be assigned an educational technologist to assist with implementation, tracking, and evaluation. Last week, the Center hosted a town hall meeting for interested faculty.
Town Hall: @mcennamo & @mhallatColumbia present Provost's new #blendedlearning initiative @Columbia #flippedclassroom pic.twitter.com/QLMZ3nQyCF

— Columbia

CNMTL

(@CCNMTL) October 24, 2014
Also From This Week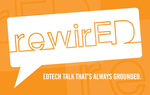 This month we've also launched two series of events that focus on innovation in teaching and learning at Columbia.
RewirED
, our annual faculty workshop series, examines effective approaches for using technology to achieve educational goals. This year, rewirED consists of seven seminars that will be offered at Morningside,
CUMC,
and
JTS
to help faculty members explore and experiment with best practices for blended learning. RewirED will conclude with a showcase that offers faculty innovators a chance to celebrate and share their own projects.
The second series, Lunch Bytes, brings a more regular schedule to the Center's traditional practice of sponsoring lunchtime discussions on educational technology services. To kick things off, members of the campus ed tech community joined us for an Innovation Showcase by Doceri, a leading vendor of iPad presentation software. We followed that with a discussion of "The Pros and Cons of Social Media in the Classroom" where we were joined by guest facilitators Professor Reyes Llopis-Garcia from the Department of Latin American and Iberian Cultures, and Leyla Williams from CDRS.
On November 20th we will welcome a representative from Top Hat, a mobile-device-based audience response system, for our next Innovation Showcase followed by Digital Dialogues: Plagiarism in the Cut-and-Paste Generation on December 4th.
In The News This Week
Our projects have been featured in several recent articles. Campus Technology wrote about our work on flipped classrooms with Professor Brent Stockwell. Professor Eric Foner's new MOOC, The Civil War and Reconstruction on edX, was featured in Columbia Magazine as well as on the Columbia student blog, Bwog.
Coming Up
Shigeru Miyagawa visits us from MIT on November 6th to give a talk -- "Open CourseWare and MOOCs: Same Aspirations, Different Strategies" -- as a part of our Conversations on Online Learning Series.