Coggle in the Classroom: Clean, Easy Concept Mapping
We've used many concept mapping tools like VUE and Mindmeister in the past, but we recently discovered Coggle and were able to recommend it to TC Professor Patricia Martinez-Alvarez for a systemic network exercise in her course Language and Science.
Why Coggle?
Coggle.it is a concept mapping tool with a clean, easy-to-use interface. The students in Professor Martinez-Alvarez's course were able to use their TC-based Google accounts to access the system, which made signing up and logging in a snap. With the tool, students designed concept maps with branching, color-coded nodes that include images, hypertext, and even LaTex (a scientific notation language).
Plain-text or FreeMind maps can be imported into Coggle, which is an excellent time-saving feature. Simply draft an outline and drag and drop it into Coggle to get started.
Professor Martinez-Alverez and her students wanted to annotate their maps with images, but Coggle only allows very small thumbnails to be embedded. According to Coggle's documentation, this image reduction is done to economize file size (and help keep the service free).
Collaboration and Sharing
It's easy to collaborate around a Coggle map via the "share", "history", and "chat" features. Users may assign "writer" or "reader" roles to any Google account holder. Maps can be shared with guests through a private link. The sharing features were a boon for Professor Martinez-Alverez and her students, allowing small groups to work together and build a map collaboratively. Once she had been given access to a group's map, Professor Martinez-Alvarez could assess students' participation via an innovative timeline "slider" which animated student work and gave her snapshots of how the map developed. Any snapshot can be exported into PDF/PNG formats.
The Coggle chat feature works much like that in Google Drive--users may see who else is viewing the map and chat with them through a sidebar interface. Coggle is designed to work with mobile tools, and we found that the basic tools to build and edit a map worked well on all of the mobile devices we tested (iPad, Android phone).
Help and Support
The minimally designed interface can be a bit confusing at first, but contextual help cues appear at the bottom of the Coggle window and a help button is available to orient users to useful keyboard short cuts. The Coggle website offers a bundle of video and text tutorials to get you started. The website also features a fairly active community and quick responses to questions from Coggle representatives.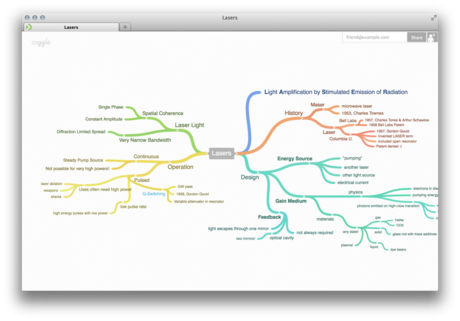 Source: Wikimedia.org
Learn more about what Coggle can do for you at the Coggle blog. If you would like to discuss using concept maps in your teaching, please feel free to contact and educational technologist at ccnmtl@columbia.edu.