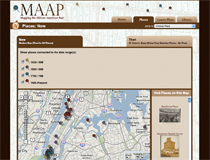 February 25, 2010. Mapping the African American Past (MAAP)—the popular educational website featuring multimedia profiles of significant people and places in the history of African Americans in New York—was recently enhanced with 10 new place profiles contributed by the Center for Public Archaeology at Hofstra University. These profiles of historic locations on Long Island, such as the Booker T. Washington House and the Eastville Community, add to the already robust collection of accounts of historical people and events on the site. As with all profiled places in MAAP, the new Long Island locations are described through text, images, maps, and video, as well as audio recordings that are read aloud by high school students and available for download in iTunes U.
In addition, a selection from the recent WNET City of Parks project was added to the African Burial Ground page in MAAP. This clip was produced by a New York high school student who chronicles his discovery of the African Burial Ground; it joins video interviews of the memorial's architect, community members, and Columbia University faculty discussing this important site.
MAAP was created by CCNMTL, Curriculum Concepts International, and Teachers College, and was funded by the JPMorgan Chase Foundation. Designed for K-12 students, the site also includes an instructors' resource section with lesson plans for educators incorporating the project's multimedia material into various curricula. MAAP was created under the auspices of the Digital Bridges Initiative, CCNMTL's strategic initiative that is bringing students into active engagements with digital collections. In September 2009, MAAP received the Award for Innovative Use of Archives from the Archivists Round Table of Metropolitan New York (ART).
Related news:
Feb-14-2011: New Mobile Version of Mapping the African American Past
Oct-27-2009: CCNMTL Accepts Award for Innovative Use of Archives
Sep-23-2009: MAAP Wins Archivist Round Table Award
Apr-02-2008: NYPL.org Lists MAAP as City Resource
Mar-31-2008: Columbia Spectator Checks in with MAAP
Mar-05-2008: New York Times Article Features MAAP Project
Feb-28-2008: Mapping the African American Past launches on Web and iTunes
Oct-01-2007: Mapping the African American Past For Students of All Ages