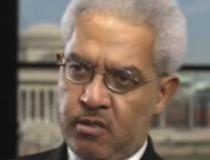 CCNMTL mourns the passing of Manning Marable, the M. Moran Weston and Black Alumni Council Professor of African-American Studies. Professor Marable was an esteemed partner for numerous CCNMTL projects, including multimedia study environments of two major texts, The Souls of Black Folk and The Autobiography of Malcolm X. Professor Marable attributed the latter to helping him develop many of his ideas for his latest book, Malcolm X: A Life of Reinvention.
Professor Marable's last project with the Center was the Amistad Digital Resource, a multimedia website that features hundreds of rare and iconic photographs, audio and video clips, oral history interviews, maps, and descriptive text explaining significant themes and key events in African American history, from slavery to the 21st century. This site is open to the public and features video commentary by Professor Marable and his wife, CUNY professor Leith Mullings.
Perhaps the promotional video for the Harlem Video Archive captures Professor Marable the best, walking around Morningside Heights and Harlem, speaking about how such a repository could be the source for a wide range of teaching and learning materials that could be deployed in university classrooms, schools, and more broadly in libraries, museums, and in educational television and radio.