Introduction
Since its founding in February 2008, Equal Education (EE) had pursued a simple mission: oblige the government to meet its own goals for making a decent education accessible to all South Africans. The Cape Town-based organization had started with a campaign to repair the broken windows in a single school. In 2009, EE began a nationwide campaign to ensure that every school had an adequate library. It expanded the library campaign in 2011 to incorporate every aspect of school infrastructure, from bathrooms to electricity. EE wanted to remedy the gross educational inequalities that were a crippling legacy of apartheid. Some 92 percent of the country's 24,793 public schools lacked a functioning library, 46 percent still used pit latrines and some had no electricity or running water.
By 2012, EE had become a nationally recognized activist organization. Part of its clout derived from its membership: young people, many of them high school students and few older than 25. In its short existence, EE had attracted 5,000 members, dubbed "equalisers," who were bent on making a real difference in the schools they knew all too well. Its tactics ranged from mass protests to media campaigns—but it always ensured that important decisions reflected the will of the membership that gave it power and influence.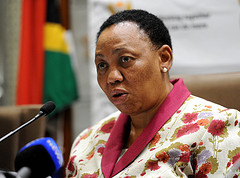 In March 2012, EE moved to a new level with a decision to sue the minister of basic education, Angie Motshekga. The suit was to pressure her to issue binding "Norms and Standards" for school buildings as provided for by a 2007 law. It was a high-risk, high-reward gambit. Spurred in part by the government's National Development Plan, which supported EE's position, Minister Motshekga settled out-of-court on November 19, 2012, one day before a scheduled trial. She pledged to release a draft of the Norms and Standards for public comment by January 15, 2013 and publish final, binding regulations by May 15, 2013.
But in January, Minister Motshekga produced a document so brief many EE members thought it was just a summary. It was not. Over the next two months, EE held public hearings, gathered comments from citizens and experts, and compiled a detailed response. Just six days before the May deadline to publish the Norms and Standards, Minister Motshekga told Equal Education that she'd need more time and would miss the deadline. The group's leadership was deeply frustrated. Motshekga had not respected the agreed-upon deadline, which had been won only after numerous delays. How likely would she be to come through after an extension?

The EE leadership decided to put the question of whether to grant an extension to a vote of the membership, and called for meetings of the equalisers . The following day, EE's legal counsel advised the group to offer a one-month extension. Refusing to offer any extension posed the risk of making Equal Education appear unreasonable, which could threaten the legal case. What could be the harm of one more month?
But on May 14, at mass meetings in Cape Town, the equalisers voted overwhelmingly to refuse the minister's request. The members were clearly frustrated and wanted to go to court. The next day, the EE leadership held a teleconference to decide what to do. They had to respond to the minister that day. Should they refuse to grant an extension and put everything they had worked for at risk? Or should they grant her one month, and risk alienating their membership, the lifeblood of the organization?