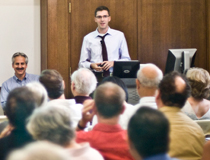 September 13, 2010. CCNMTL recently welcomed faculty and staff back to school with its 4th annual Fall Premiere, an event for faculty and instructors, teaching assistants, and administrators to learn about the latest teaching tools and CCNMTL services available at the University. This year's Fall Premiere featured presentations on Columbia's course platforms, digital media services, and faculty support resources.
Vice Executive Director Maurice Matiz began the Fall Premiere by discussing the landscape of learning management systems (LMS), like CourseWorks, and the growing trend toward audio, video, and mobile integration in LMSs. Dan Beeby, the Center's Associate Director of Services, demonstrated Columbia's blogging platform, EdBlogs, and highlighted the multiple blog themes and designs that can be used to meet the needs of varying course formats. Beeby also presented Columbia Wikispaces, the University's wiki solution initiated in 2007, and illustrated the growing use and complexity of Columbia's course wikis. Senior Digital Media Technologist Brian O'Hagan explained how instructors are increasingly using Columbia's YouTube EDU and iTunes U platforms to deliver course content to students. O'Hagan also revealed the new CCNMTL-developed media viewer which allows instructors to securely share educational videos on course sites that have restricted access. Finally, Educational Technologist and Faculty Lab Manager Michael Cennamo described the various ways that teaching faculty and TAs can utilize CCNMTL services, noting the Center's workshops, one-on-one consultations, and Faculty Support Lab offerings.
The Fall Premiere was attended by faculty and staff from every department at the University, and continues to serve as a useful forum for Columbia educators to discover CCNMTL's free tools and support services. Faculty and instructors can receive hands-on training with these tools at CCNMTL Faculty Development Workshops offered at the start of every semester. Learn about these workshops and register at CCNMTL Events.