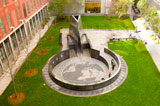 African Burial Ground Memorial, Photo: Manjari Sharma
March 5, 2008. Mapping the African American Past (MAAP) is a public website created by CCNMTL and partners to enhance the appreciation and study of significant sites and moments in the history of African Americans in New York from the early 17th century through the recent past.
Read about the MAAP project on the New York Times website and on the Columbia Teachers College website.
Learn more about the MAAP website by reading the project description or by visiting the MAAP website.
Subscribe and listen to audio podcasts describing people and places highlighted in the MAAP Web site. Podcasts also available from the iTunes Store Podcast Directory.
In addition, the site will officially launch this afternoon at the Heritage High School in East Harlem with speeches by Dennis Walcott, deputy mayor; Robert Jackson, city councilman and chair of the NYC Education Committee; Sabrina King, chief academic officer of the NYC Department of Education and William Baldwin, vice provost of Teachers College.
Related news:
Feb-14-2011: New Mobile Version of Mapping the African American Past
Feb-25-2010: MAAP Enhanced With New Content
Oct-27-2009: CCNMTL Accepts Award for Innovative Use of Archives
Sep-23-2009: MAAP Wins Archivist Round Table Award
Apr-02-2008: NYPL.org Lists MAAP as City Resource
Mar-31-2008: Columbia Spectator Checks in with MAAP
Feb-28-2008: Mapping the African American Past launches on Web and iTunes
Oct-01-2007: Mapping the African American Past For Students of All Ages