Our focus was on the future this week as the Center welcomed Dr. Chuck Severance for a discussion with staff on near-term trends in educational technology. Severance, a faculty member at the University of Michigan and longtime developer and promoter of standards for teaching and learning technology, articulated key next steps in his vision of academic institutions as the place where educational technology is created and sustained.
A like-minded sense of mission infuses the Center's Design Research focus, or "build to learn" philosophy. Recent examples of this theory in action include our release of a comprehensive statistical analysis of Columbia's first year of MOOCs by staff member Michael Cennamo, the results of which are already shaping the ways we work with faculty in both online and traditional course settings.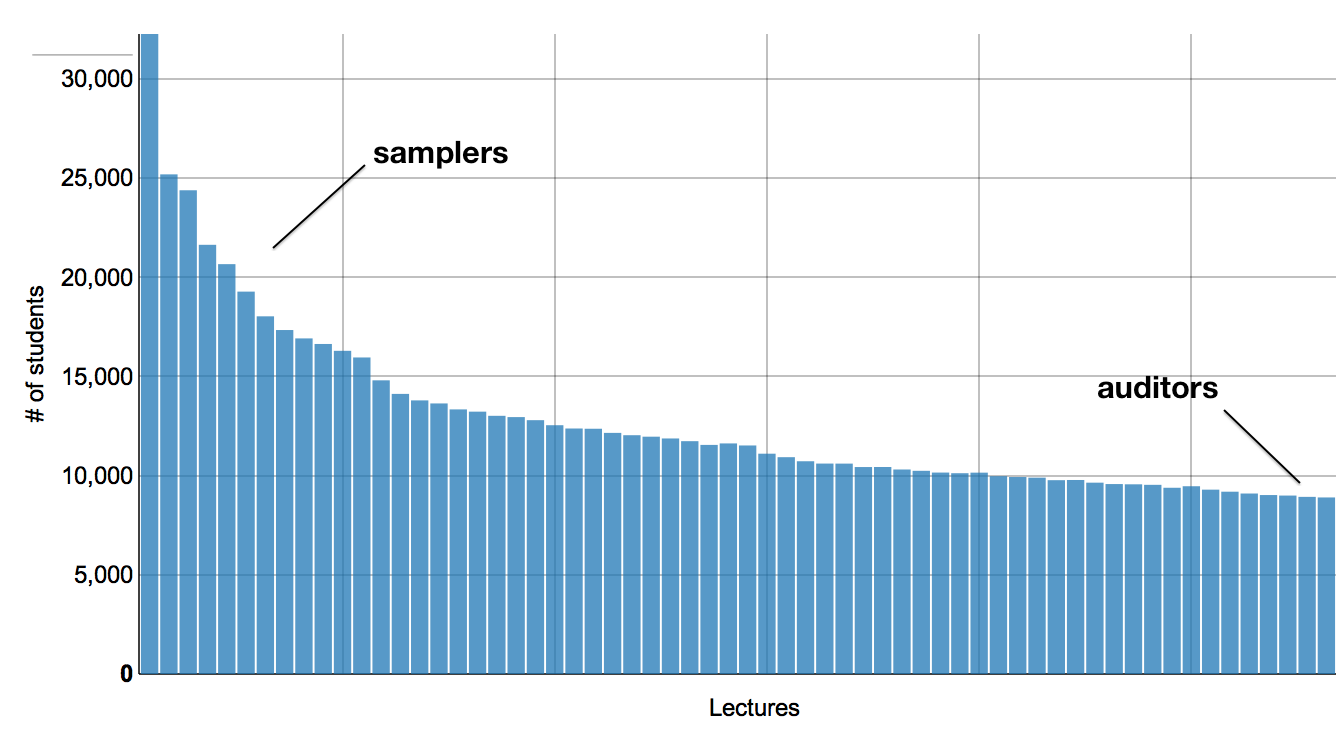 A graph of the typical drop off of lecture viewing during a Coursera MOOC, from Cennamo's statistical analysis.


Severance expressed a similar sense of the importance of MOOCs for promoting positive changes in teaching and technology in his talk. As one of the early faculty members to join Coursera, for which he still teaches his Internet History, Technology, and Security and _Programming for Everybody _courses, he has used his MOOCs as a platform for both technical and pedagogical innovations which have in turn informed his face to face courses. The wide-ranging discussion also touched on issues such as learning object repositories and the importance of interoperability standards to facilitate a future in which campuses will run more than one learning management system and rely increasingly on third party tools to promote richer learning experiences.
Also this week: The Center hosted a workshop on "Creating and Sharing Content with iBooks Author" where faculty had the opportunity to see published content from their peers and learn how to get started with the software. Acting Executive Director Maurice Matiz briefed the staff association of Columbia University Library/Information Services on the current landscape in online learning. And the Center welcomed a new staff member, Jose Diaz, a Senior Tech Specialist who will help with online learning initiatives.