Introduction
In 2010, Haiti remained the poorest country in the western hemisphere, with some of the most severe environmental degradation.[1] Decades of international aid and development efforts had been hampered by corruption, mismanagement, international politics and Haitian political instability.[2] The country's challenges were dramatically amplified on January 12, when a devastating magnitude 7.0 earthquake leveled large portions of the capital, Port-au-Prince. For months after, earthquake rescue and rebuilding took precedence over all other aid projects.
While the devastation was enormous, the earthquake did provide an opportunity to build better infrastructure and, at the same time, improve education, healthcare and other key social services. Planners had long recognized that too many Haitians lived in the capital; a reverse migration, inadvertently triggered by the earthquake, could have long-term benefits. So in March 2010, the government released a crisis recovery plan for four development hubs outside the capital, including the south.
The southern plan favored an ambitious project already underway, co-sponsored by the United Nations Environmental Program (UNEP) and Columbia University's Earth Institute. The project, dubbed the Côte Sud Initiative (CSI), aimed to take a scientific, long-term approach toward restoring the environmental and economic viability of watersheds in Haiti's southwest. Andrew Morton (UNEP) and Marc Levy (Earth Institute) were co-leading the effort. CSI would require five years of funding; typically, funders committed to international aid projects for only one or two years.
Working together informally in 2009, UNEP and the Earth Institute had selected as the project site the Port-à-Piment watershed, an area some 200 kilometers (125 miles) west of Port-au-Prince. Port-à-Piment was trapped in a cycle of poverty and environmental degradation: deforestation made the region increasingly vulnerable to flooding and landslides, which made it difficult to subsist off the land which, in turn, drove people to charcoal production, which contributed to deforestation.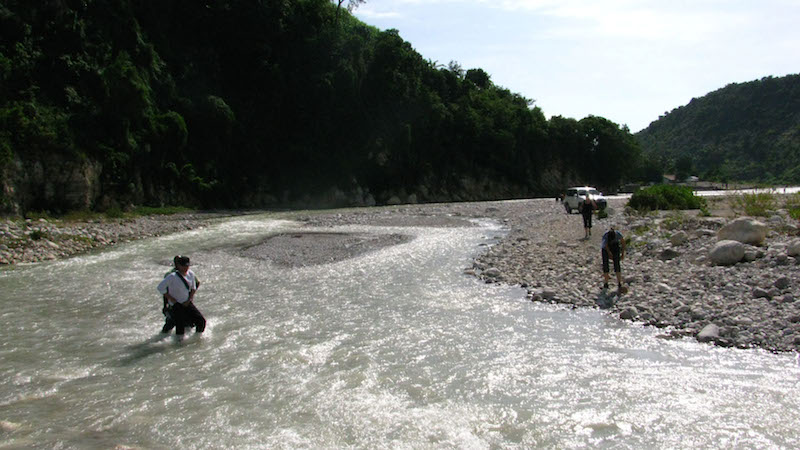 By 2011, CSI had grown in scope and ambition to become a comprehensive development project that included agriculture, ecology, business development, education, fisheries, forestry and healthcare. It would be, all hoped, a model for the rest of Haiti. UNEP officially contracted with the Earth Institute in August 2011, and CSI began in earnest in September, with a grant of $8 million from the Haiti Reconstruction Fund. Over the next six months, it signed on other nonprofit partners, began a household survey, established a cadre of local healthcare workers and started education, agriculture and forestry projects.
After the earthquake, CSI took on new urgency. Wanting to integrate their research into a broader development effort, Levy was able to link the watershed initiative to another Earth Institute effort, the Haiti Policy Program, directed by Tatiana Wah. Wah already wore other hats: advisor to the Haitian government on the so-called Millennium Development Goals, and UN technical advisor for the western hemisphere's first Millennium Village Project.[3] Wah agreed to partner with CSI on the understanding that the Millennium Village would become part of the larger Port-à-Piment watershed project.
But on March 22, 2012, UNEP notified the Earth Institute that its funding would not be renewed beyond June. The news came as a shock. Wah, however, mobilized her considerable contacts and resources, and soon won the support of the agriculture and finance ministers for redeploying international funds intended for reforestation in the southwest to the Port-à-Piment watershed.
But Haiti was in a fragile political state. The prime minister had resigned in February. In early May, with the advent of a new government, Wah learned that both the supportive ministers had been dismissed. It was a serious setback. The Port-à-Piment project had barely a month to secure funding to keep running. With all Wah's connections and track record in Haiti, what options remained? After mobilizing a network of community groups and technical staff, Port-à-Piment was on the brink of making a real difference. Surely it would not be allowed to close.
---
[2] Timothy T. Schwartz, Travesty in Haiti, BookSurge Publishing, July 5, 2008, ISBN 978-1-4196-9803-3
[3] The Millennium Development Goals, or MDGs, were an ambitious set of UN goals for improving health and well-being globally between 2000 and 2015.