President Fernández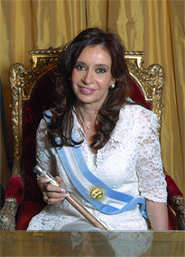 Yet Néstor Kirchner retained a great deal of authority in the new administration; major decisions were seen as coming from him, and he was widely expected to run for the presidency again at the conclusion of his wife's term in 2011. Argentine presidents were restricted to two consecutive terms in office but could run again after a term out of power. Some suspected the Kirchners intended to trade the presidency between them for many terms to come. [1]
Fernández herself enjoyed high popularity for about three months after her January 2008 inauguration. That began to change on March 11, 2008 , when she raised taxes on agriculture exports by decree, arguing that farmers had benefited unduly from high worldwide commodity prices paired with a low peso. The higher export tax, she argued, would bring in $3 to $4 billion a year in additional revenue, to be spent on public works projects.
The tax hike antagonized Argentina 's wealthy and politically powerful agricultural sector. The conflict erupted into a full-blown crisis over the succeeding months as demonstrators blocked highways and farm strikes caused food shortages, rationing, and skyrocketing prices in urban supermarkets. As the protests continued through June and Fernández refused to back down, her approval rating plummeted to 20 percent.
It was during this period that the relationship between Clarín and the Kirchners soured. Néstor Kirchner later claimed on state television that Clarín CEO Magnetto had approached him during the farm crisis to offer positive coverage of the government if Kirchner agreed to help Clarín acquire Argentina 's dominant telephone company. [2] In any case, the Kirchners began to accuse Clarín outlets––especially its flagship newspaper and news channel Todo Noticias––of biased reporting on the farm crisis, targeting the group in speeches and in posters on city streets declaring " Clarín Miente ," or "Clarín Lies."
Listen to reporter Fiona Ortiz discuss Kirchner's war on business.

Clarín newspaper responded with blistering editorials; its news pages, meanwhile, featured ever more frequent investigations into government corruption and ever more critical coverage of the farm crisis. When Congress, dominated by the Kirchners' own party, repealed the farm tax on July 17, 2008 , Fernández publicly blamed Clarín for the farm tax's defeat. As soon as a new legislative season began on March 1, 2009 , Fernández took up the cause of media reform. [3]
---
[3] Charles Newbery, " Argentina Cries for Reform," Variety , March 16, 2009 .