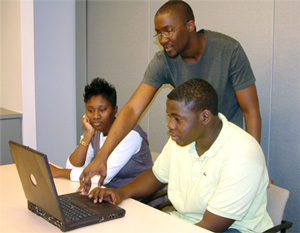 Using games, videos and other interactive features, Multimedia Connect helps a facilitator guide a couple through an

HIV

intervention program.

CCNMTL launched the Triangle Initiative in 2006 to explore ways that new media can be used to advance the intersecting interests of research, education and the community, with the objective of addressing critical social or cultural needs. Current Triangle Initiative projects under development address social justice and health disparities both locally and globally. Because digital media is modular and portable, it has the flexibility to serve multiple users in multiple locations. For instance, video developed for an evidence-based health intervention that is the object of research can find utility in a social work classroom. In another example, research engaged by law students constitutes content for a web-based tool for public defenders.
The Triangle Initiative has been well received by the Columbia community and has received over one million dollars in support from the University. Additionally, Triangle Initiative projects have received grant funding through faculty partnerships from the Centers for Disease Control and the National Institute of Mental Health.
Where Does a Triangle Initiative Project Start?
Triangle Initiative projects must address substantive needs in each of three areas-research, education, and service to the community-but may begin in any one of the three. For instance, Multimedia Connect, the flagship Triangle Initiative project, began with a need for social work researchers to disseminate a proven
HIV
prevention program more broadly. Another project, the 4Cs Calculator, started with a need identified by New York's chief judge to solve social justice issues latent within New York state's legal system. A third, the Web Assisted Tobacco Initiative, is beginning with a need to educate students in Columbia's School of Dentistry, in partnership with its community clinic on techniques for encouraging patients to quit smoking. See also
What Inspired the Creation of the Triangle Initiative?
Inspiration for the initiative came from CCNMTL's experience working with researchers from the Social Intervention Group (SIG) on Multimedia Connect, a multimedia intervention designed for use in community-based HIV programs. Learn more about how Multimedia Connect inspired the Triangle Initiative >>