The Columbia University YouTube channel gives faculty, students, and the public access to Columbia-produced academic videos and enables instructors and administrators to share videos online for educational, promotional, and other uses.
The Columbia channel is integrated into YouTube's EDU portal, which aims to bring learners and educators together in a global video classroom. YouTube EDU organizes videos from universities, colleges, higher education institutions, and educational organizations.
View Columbia's YouTube channel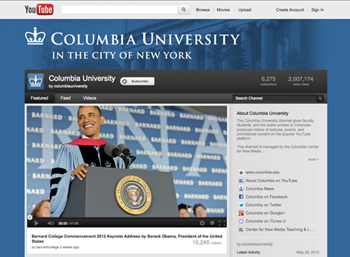 Getting Started with YouTube
Contact ccnmtl-youtube@columbia.edu to learn more about Columbia on YouTube and using online video for educational purposes.
Columbia on YouTube Features
Free publishing of high definition, Columbia-produced videos
Hosting of long-form academic videos and school-specific promotional videos
Easy social media and web-sharing features
"Unlisted" videos that are not accessible via browsing or searching
Text annotations, captions, subtitles, and tagging
Automatic audio-to-text captioning, as well as instant text caption translation into foreign languages
Ad-free, and education-specific "Related Videos"
Columbia University branding