Jyllands-Posten
The cartoons in question had first been published fully four months earlier. But reaction to them had spread only slowly. Jyllands-Posten (JP ) , a liberal newspaper in the Danish city of Aarhus, had commissioned the cartoons after Culture Editor Flemming Rose learned that a local children's book illustrator was unable to find anyone to illustrate a book about the Prophet Mohammed, founder of Islam, because by some interpretations, Islam forbade any pictorial depiction of the prophet. [1] Rose felt that this was a challenge to freedom of speech and invited 25 members of the association of Danish cartoonists to submit illustrations of Mohammed: "Draw Muhammad as you see him," Flemming wrote. [2] Twelve of them turned in cartoons.
The article . On September 30, 2005, JP ran an explanatory piece by Culture Editor Rose—a former foreign correspondent in both the Soviet Union and Iran—intended to start a community conversation about self-censorship. The article, titled "Muhammeds ansigt" (Mohammed's face), was one of several which ran that day on the general theme that, in secular and democratic societies, non-believers should not have to censor themselves for fear of offending believers of any faith, and in this instance, Islam. The newspaper had a daily circulation of 154,000—a medium-sized publication in a small country.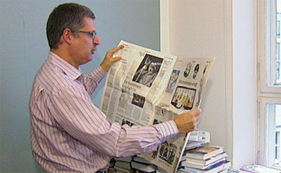 The 12 cartoons accompanied the articles. The cartoons varied in their depictions, and several did not include Mohammed at all. One showed the prophet with a bomb in his turban, another featured a haloed figure on a cloud with arms wide, crying to a line of figures: "Stop, stop—we've run out of virgins!" A more prosaic drawing showed a bearded, shepherd-like figure leading a laden donkey, with a low red sun on the horizon; another was of an artist seated at a table under a bright light drawing a bearded figure.
The cartoons did provoke a reaction. On October 9, the Islamic Faith Community in Denmark demanded an apology. JP said in an editorial on October 12 that it regretted any offense the cartoons had caused, but it did not apologize. Two days later, a crowd of 3,000 demonstrated peacefully in Copenhagen against the cartoons. The protestors claimed that the cartoons lampooned the Prophet and insulted their religion.
There were more developments. In mid-October, a group of 11 Muslim ambassadors to Denmark demanded a meeting with Prime Minister Anders Fogh Rasmussen (he refused). That same week, an Egyptian newspaper, El Fagr , reproduced six of the cartoons—one on the front page and an additional five inside—and condemned JP for publishing them. [3] The Egyptian republication attracted minimal attention. Several Muslim countries, however, delivered diplomatic protests to the Danish government. Meanwhile, the newspaper received a number of death threats and bomb threats. But by and large, throughout the fall the matter remained largely a domestic Danish political issue.
Imams to Mideast. That changed in December. On December 3, a delegation of Danish imams arrived in Egypt for a week of meetings. They carried a 43-page dossier of images they claimed reflected demeaning treatment of Muslims in Denmark. Egypt had already registered several protests with the Danish government, and the visiting Danes met with a variety of officials, including Secretary General of the Arab League (and former Egyptian foreign minister) Amr Moussa. [4] The delegation's portfolio included the 12 JP cartoons. Another three, however, were unrelated offensive illustrations—for example, Mohammed as a pedophile. [5] At a December 7 meeting in Mecca, the influential Organization of the Islamic Conference (OIC) issued a statement condemning the cartoons and the Danish government's failure to protect Muslims. [6]
On December 18, JP Editor-in-Chief Carsten Juste took to the pages of his newspaper to talk about the cartoons and why JP had published them. In an interview, he said that "it was never our wish to insult the Muslims' faith." He continued:
If cruder cartoons had been submitted, they would have been pulled… But there's absolutely no way we will apologize for publishing the cartoons. If we apologize, then we let down the many generations who have fought for freedom of expression and other civil rights. [7]
Whatever its intent, this explanation did not calm the waters. On December 29, the prime ministers of the League of Arab States criticized Danish Prime Minister Fogh Rasmussen for failure to address Muslim concern over the cartoons. In response, Fogh Rasmussen on January 1, 2006, in his New Year's address to his country defended Danes' freedom of expression and religious freedom. With this, the controversy burst onto the international stage.
---