Le Monde reconsiders
The edition of Saturday, February 4 (which hit the streets at noon Friday) featured a front page headline: "Manifestations contre les caricatures de Mahomet" (demonstrations against the Mohammed cartoons). More followed inside, where Page 4 was devoted to the controversy. There were four main stories, plus a box featuring three precedents for such outrage: Salman Rushdie, Taslima Nasreen, and Theo van Gogh. [1] One of the articles described the unease and embarrassment of French politicians, torn in how to respond to the French Muslim community.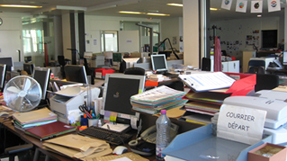 But as the editors sat down to their daily noontime meeting on Friday, February 3, they realized that all this coverage, while comprehensive, was likely not enough. The question of whether or not to reproduce the cartoons was stubbornly still with them. The reasons to avoid them had not changed. There was still the recent history of riots in Paris to consider. Kauffmann notes that "the Middle East, the Jewish-Muslim divide… is the toughest issue in France… These debates are always very tough, and on our website it's terrible. It's the issue which gets the most reaction."The editors also worried about whether their correspondents in the Middle East might suffer.
There was in addition discussion of whether Le Monde readers took much interest in religious cartoons. As Greilsamer emphasizes, France was a thoroughly secular society. Since the 1970s, especially among the intellectuals who comprised Le Monde' s core readership, religion was dismissed as akin to magic. He recalls, "In the 1970s, in a certain milieu, to say I believe or to say I practice a religion, it was really to say you were a peasant." Did Le Monde readers seriously want to see the cartoons for themselves?
As le redaction looked around the table, "people were pretty divided, I think," recalls Kauffmann. "Some thought that we should print them. Others thought that it was not a good idea." She continues:
Some people thought yes, if Muslim readers or people abroad (because there wasn't so much protest in France) find it offensive, why should we add one more layer? Why should we play that against their sensitivity? And the other line was very much… the other camp was we're free. We are in France. We are not a Muslim country. We looked into cartoons that we published 20, 30 years ago about Jesus Christ and they were much, much worse. Even in Le Monde . So it was no, why should we fear anything? This is our right. It's freedom of speech. It's a principle.
Greilsamer listed two conditions for the paper even to consider running the Danish cartoons: 1) obtain the views of Le Monde correspondents in the Middle East, and 2) ensure that Le Monde 'streatment of the cartoons, whatever it might be, was respectful. Then there was the secondary dilemma: If the paper decided to print the cartoons, should it run all of them, or some of them? If some, which ones? It was Friday noon, February 3. The Sunday-Monday edition would be on newsstands in 24 hours, at noon on Saturday. If le redaction was to get the Danish cartoons into the paper, they would have to make a decision soon.
---
[1] Nasreen was a Bangladeshi physician, writer, feminist, and human rights activist critical of Islam who fled her country and was expelled from India after denunciations and death threats from Muslim fundamentalists.