France and religion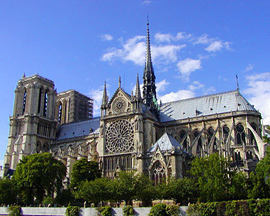 France—historically a Catholic country with a substantial Protestant minority—had subordinated religion to secular authority ever since the 1789 revolution, which toppled the Bourbon kings. The revolutionary National Assembly had confiscated all church property, and in 1790, a new law stipulated that all clergy be selected and paid by the state, not the Vatican. [1] The revolution also guaranteed the right of free speech. Article XI of the 1789 Declaration of the Rights of Man said: "The free communication of thoughts and opinions is one of the most precious rights of man."
A 1905 Law on the Separation of Church and State took it one step further (though the government continued to own 86 French cathedrals and numerous other religious monuments). The 1958 Constitution articulated a vision of a secular and assimilated citizenry. Article 1 said: "France is an indivisible, secular, democratic and social republic. It guarantees the equality of all citizens before the law without distinction of race, origin or religion. It respects all beliefs."
By the early 21st century, religious freedom and a secular government had become the French creed. Under French law, all residents—immigrant or native—were to be treated as individuals, not as members of ethnic or religious communities. Government demographers did not even track ethnicity or religious affiliation, judging them irrelevant to political identity.
However, the law was one thing and social attitudes another. By the 1960s, France's socio-religious divide was no longer between Protestant and Catholic, but between Christian and Muslim. Like other European powers, France through World War II had maintained colonies—a large number of them in Africa.After brutal wars and liberation campaigns, however, most French colonies had gained independence. French law gave many former colonials the right to live in France and before long, Muslim immigrants from former colonies such as Algeria, Morocco, Tunisia, and Lebanon relocated. The newcomers preferred urban areas, and the cities of Marseilles, Lille, and Paris emerged as centers of Arab settlement. France became home to the largest Muslim population in Europe. Many of the immigrants were low-income or unemployed. The 2003 unemployment rate among former Algerians and Moroccans was over 30 percent, three times the national average.
In Paris, large swathes of territory became majority-Arab communities. The city and its surrounding Île-de-France region hosted one of the largest concentrations of immigrants on the continent. As of January 2005, an estimated 1.9 million, or 16.7 percent, of Île-de-France residents were immigrants born abroad. Many of these areas developed reputations as violent, poverty-stricken, and neglected. Residents lived disproportionately in dense, poorly-maintained high-rise "jungles." In October 2005, the Paris suburbs erupted. The violence was only the latest in what had been a strife-ridden 18 months across Europe.