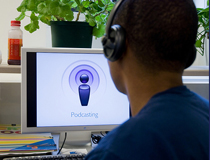 January 15, 2010. "How can I start podcasting?" It's a common question posed to CCNMTL educational technologists and one that has numerous answers. At Columbia, podcasting is frequently used as a method to deliver audio and video recordings of course lectures that students can easily download to computers, mobile devices, and MP3 players. Podcasting can also be used to record group projects or presentations, create study materials, capture interviews, support language education, demonstrate a complex task, or distribute instructor feedback. The medium is particularly convenient for college courses because it enables learning to continue outside of the classroom, freeing up class time and allowing students to engage in self-paced learning and study.
With over 61 courses offered on Columbia on iTunes U and 15,000 podcasts downloaded in 2008-2009, podcasting continues to gain popularity as a teaching and learning tool at the University. Visit the Podcasting and Media Overview, located in the Tools section of the CCNMTL website to learn about the basics of podcasting and how you can get started started with educational media in your classroom. This overview also offers tips for instructors on how to develop a style and structure when recording presentations, as well as demonstrations of course recordings created by Columbia faculty. Or, check out the CCNMTL Resource site, EnhancED, for articles on podcasting in education.
And don't forget to register for the upcoming Podcasting: Creation and Distribution workshop on January 21, where you'll see receive hands-on instruction on the production and distribution of podcasts. Register today.
Related news:
Apr-21-2011: New Columbia on iTunes U Public Channel Coming
Aug-12-2009: Columbia on iTunes U Goes Mobile
Mar-06-2009: Columbia College Student Council and CCNMTL Promote iTunes U
Nov-21-2008: Columbia on iTunes U Proves to Be a Hit
Oct-27-2008: Columbia on iTunes U Listed in iTunes Store
Sep-18-2008: Columbia on iTunes U Featured in Columbia Spectator
Sep-15-2008: CCNMTL Launches Columbia On iTunes U