Resources for Video Production at Columbia (and Beyond)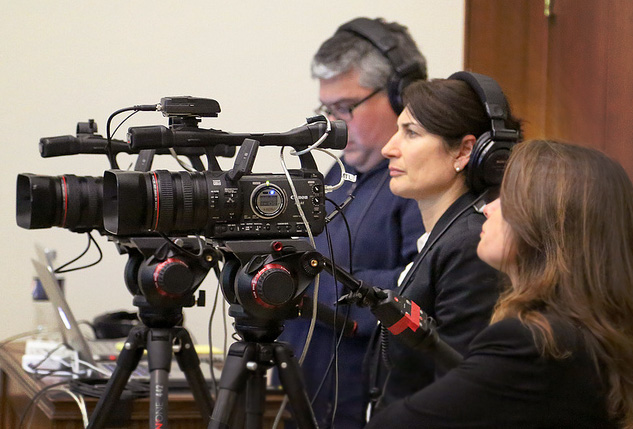 From lecture recording to student audio projects, there are a number of reasons Columbia instructors may need access to video and audio equipment. While select departments (Barnard College, Film Studies Department, GSAPP) have A/V equipment and related inventory that can be rented by department faculty and affiliated students, there is no centralized equipment rental facility on Columbia's campuses.
So, we've compiled a comprehensive list of resources for video and audio production at Columbia University and beyond. Whether you are planning to handle the production yourself or enlist professional help, it is good to know your options, both on and off campus.
Note: Faculty and teaching assistants may contact CCNMTL at any time to request consultations regarding video and audio production, using video in the classroom, flipped classroom models, etc. You may also contact CCNMTL for referrals should you prefer to hire a freelance video professional.
Walk-In Hours: CCNMTL staff is available for walk in hours each week - Fridays from 2-4pm. Contact Therese Condit, Ed.M., Technical Video Specialist to schedule an appointment.
Video production resources at Columbia University
Center for Digital Research and Scholarship
Provides technical services for scholarly conferences and some lectures. Services includes videotaping, transcripts, marketing, etc.
Videotaping: $250 for 1st hour and $125 every hour thereafter.
Encoding - $75 per hour
Editing - $100 per hour
Students Audio Visual Equipment (S.A.V.E)
Training at Lerner. From their website: "Recognized student groups can save on the cost of technical support for their events. By completing a three-part training session, students can operate A/V equipment for their own events, which will save student groups on the cost of having to request an A/V tech to operate their event, as well as teach valuable technical and leadership skills."
ACS Video Services At Teachers College
ACS Video Services distributes video cameras (both digital and analog), tripods, and mics for TC community video productions. ACS Video Services also manages the use of the 259 Macy Televison Studio. Any audio or video recordings that require the studio's use must be arranged in advance with the Coordinator of ACS Video Services.
ACS Video Services also runs and staffs the Teachers College Instructional Media Lab. The lab is a fully digital video/audio post-production facility with some of the latest software in digtal post production, like Final Cut, iMovie, and Pro Tools. ACS Video Services also provides analog video tape duping and editing capabilities to the TC community.
AV Office at the Graduate School of Architecture, Planning and Preservation (GSAPP)
The GSAPP AV Office supports and maintains classroom technology such as projectors, televisions, and computers as well as portable classroom presentation equipment. It also maintains an inventory of media equipment for student use, including digital video cameras, digital still cameras, audio recorders, and GPS devices.
Media production resources at Columbia University
Columbia University Office of Communications and Public Affairs
Columbia's Office of Communications and Public Affairs produces news and promotional video and other media material for the University. Any Columbia University group interested in pitching a news story should contact a Public Affairs officer.
Video Production Resources for Hire (Outside Columbia)
Downtown Community Television Center (DCTV)
DCTV provides low-cost equipment rentals, facility rentals, and production services that range from single camera videotaping to full multi-camera, scripted, and edited productions.
Pricing:
Small productions: single camera, hand over tape to client: $400 half day and $750 full day
Medium productions: single camera, minimal editing with encoding: $400-$650 (editing slides/images)
Large productions: multi-camera, highly edited with encoding for distribution, budget estimates dependent on project.