MiFi Offers a Convenient Way to Connect to the Web
If you need to connect your computer, netbook or other devices to the Internet when you are traveling, in a remote location, or at a conference, MiFi may be your best option.
MiFi is a brand name that is used to describe pocket-size wireless routers that can create a personal WiFi hotspot using a signal from 3G (and 4G) cellphone networks. The router creates a 30-foot "cloud" of high speed WiFi service that can handle up to five devices.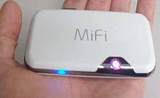 Since introduced last year, many companies such as Verizon, Sprint and Virgin offer competing products and data service plans. MiFi products offer some advantages, most notably, ease of use and sharing, and they don't tie up your phone. Recently, Virgin offered an unlimited MiFi data plan without the typical two-year contract for only $40 per month, making it an even more attractive choice, but beware of concerns with Virgin's service. A recent New York Times article covered the latest offering from Virgin.