New iTunes U App and Course Manager Released
Last week, Apple announced a major redesign of iTunes U with the launch of two new products. The first product is a dedicated iOS app, iTunes U, that provides access to the existing iTunes U content and to new content developed with the second release, iTunes U Course Manager. Course Manager is a web-based tool for designing, managing, and distributing course content via Tunes U.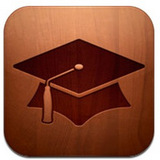 iTunes U App
The new iTunes U App offers simpler access to iTunes U content, which used to be difficult to find via the iTunes App. This new app represents a shift toward touch devices such as iPads and iPhones. iTunes U's upgraded features—such as the integration of direct access to web resources, user notes, annotations and access to interactive books—are only supported on iOS and intended for use on iPads and iPhones. While iTunes U audio and video content can still be accessed by MacOS X's iTunes application, the new iTunes U features are not accessible.
iTunes U Course Manager
Course Manager functions like a typical learning management system (LMS). Access to Course Manager requires an Apple ID which must also be associated with a participating iTunes U school by the school administrator. Once access is granted to Course Manager, instructors can begin to build their course. After the course is built, instructors can choose to share the course URL with selected students or can publish the course URL to the institution's public iTunes U site.
Courses Manager has two modes: In-Session and Self-Paced. In-Session courses are organized in real time around a calendar of posts, assignments, and activities. Self-Paced courses can begin and end at anytime. Media supported includes audio (MP3/M4A), video (H.264), iBooks (ePub), document files (PDF, Microsoft Office files, Apple Notes/Keynote files), apps (via the iTunes App Store), image files (JPEG), and links (URLs to websites, as well as to other media on the iTunes Store). Apple requires that licensing and copyright information is specified for all content on iTunes U. Licensing options include six Creative Commons licenses and an "All Rights Reserved" designation.
iTunes U at Columbia
The changes to iTunes U add a new dimension to how instructors can manage and distribute course media to students. CCNMTL is evaluating these changes and their effects on the current iTunes U program at Columbia. In particular, we will be evaluating our ability to manage non-institutional accounts and the exclusivity of iOS devices, among other issues. Early adopters who are interested in trying out the new iTunes U Course Manager should contact the Center to set up a consultation. All initial uses of the new iTunes U Course Manager will be considered experimental.
More information on the new iTunes U is available at http://www.apple.com/education/itunes-u/. Question on the Columbia iTunes U program can be sent to ccnmtl-itunesu@columbia.edu.