Editorial start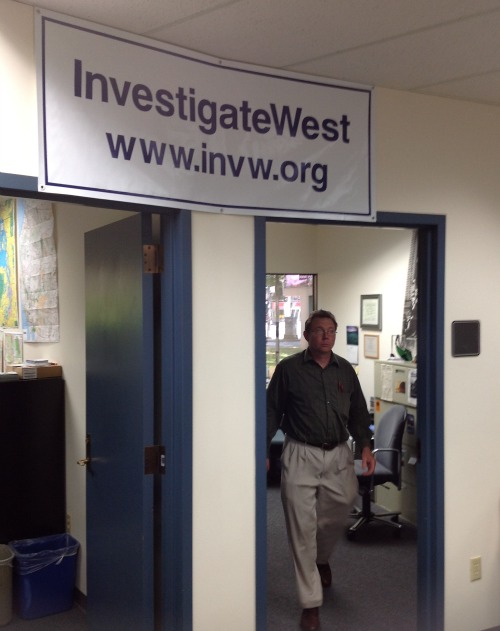 On July 8, 2009, InvestigateWest announced itself to the world with a press release and opened its website to the public. According to the press release, IW would "distribute its multimedia content through individual partnerships with media organizations and through its own syndicated service."[10] The website was filled largely by staff blogs focused on the West. While the blogs were far from the polished product IW aimed to produce in time, they provided a low-cost way to test the site's potential, and gave both prospective funders and customers a sense of the group's editorial direction. McClure recalls:
We felt it was important to start getting familiar with this big region… really just aggregating news from around the West. We turned that into an editorial product that could continue after the launch. We pretty quickly moved away from that and started doing more developed blog posts on a regular basis. But even early on it was a great idea to get something up after a few months of work—something that says you're there, and tries to pique interest.
InvestigateWest debuted with a staff consisting of McClure, Smith and Hibbard, as well as investigative reporters Kamb and Young, and chief digital strategist/investigative reporter Lathrop. (In late July, Kamb left for the News Tribune in Tacoma.) The challenge was to move quickly from blog posts to full-fledged stories. Recalls McClure, "We had people reporting, but we were going for deep dives, and we realized we had to come up with some really good stuff right away." The reporters dug in; McClure traveled to California and Oklahoma to start work on the grant-funded public parks/private use story.
Board of Directors.One key to viability was a strongboard of directors, and the IWteam started recruiting members during the summer of 2009. They were looking for journalism and business figures with national reputations. By September, they had located a strong slate. The board included Frank Allen, head of the Institutes for Journalism and Natural Resources and a former environmental editor at theWall Street Journal; Vicky Porter, director of the Knight Digital Media Center at USC; and Brant Houston, Knight Chair for Investigative and Enterprise reporting at the University of Illinois. Chairman Reich was a public relations veteran who had also worked in government for Vice President Al Gore in the Clinton White House and during the 2000 presidential campaign.
Over the fall, IW staff worked on a couple of strong stories, including the public parks/private use assignment. But November brought two substantial additions. The first story came to it, when CPI asked IW to be one of five INN member organizations to provide local coverage for a yearlong investigation into administrative responses to sexual assault on college campuses. Smith andIW contributor Lee van der Voo reported and produced a series of stories that appeared in February 2010 on IW's website and was distributed by CPI and its partners, including National Public Radio. Van der Voo alone wrote another five stories that ranthroughout 2010. The fourth piece in his series—about Reed College in Portland—also ran in the Portland Oregonian. In response, the small, liberal arts college brought in a special investigator and revised its policies on sexual assault.
Also in November 2009, McClure came across what he was sure could be a nationally significant story. He noticed a one-paragraph reference in a November 20 press release from the US Geological Survey (USGS) to recent research on paving sealants made with coal tar.[11] It noted new evidence that the sealants degraded over time, dispersing toxic dust that could migrate into homes and waterways. McClure spent weeks interviewing researchers and officials for a story about the scientific findings and efforts to ban the sealants.[12]
IW approached a number of news organizations about buying the sealants story. Eventually the MSNBC.com news website bought it, and ran the piece in January 2010. The experience gave IW a taste of what collaboration could mean: MSNBC.com rigorously vetted both InvestigateWest and its reporting. McClure recalls:
The story itself was carefully examined and rewritten as needed. It went through a few editors and went back and forth. It was interesting because we were all still learning to do these collaborations. I think the vetting of InvestigateWest as a news provider was aided by the fact that we had decades of experience individually in the news business.
The story got strong play (McClure noted 400,000 page hits in one five-hours period)and eventually led to a May 2011 ban by Washington state on the sealants. For IW, the scoop became a useful calling card with potential news partners. It was disappointing, however, how little public recognition the story brought to the new venture. Hibbard remembers that "we came to see that we really needed [wider] distribution of the story so that it got more exposure and to get impact for our work and impact for the subject. The [InvestigateWest] brand is what we were writing for."[13]
Hibbard on getting maximum exposure for each story.

Moreover, the sealant story was not successful as a business venture. InvestigateWest had negotiated a freelance fee of $750, which failed to cover even the cost of production. McClure acknowledges that "we sold the story for far less than it probably was worth," although he counters that "the benefits, to society and to InvestigateWest have been huge." Regardless, the experience was confirmation that freelance market rates for in-depth journalism were insufficient to support a venture like IW. Foundation support and other income would have to cover the balance.
---