Incident Reports
When Bowden returned to Nairobi on Thursday, he had on his desk incident reports from Petit and Hotz.[31] These gave Bowden more information to work with. Both OCHA officers reported that the Shabaab raiders, while armed and determined, were generally relaxed and respectful. Though many were masked, they removed their face scarves when speaking to the UN staff. They knocked before entering the women's areas, and they put down their guns during parlays in the DSS office. Petit tried a joke or two and found it easy to make the militiamen smile.
This was not the kidnapping or terrorist attack that Petit had been expecting. The NGO meeting went on without interruption. The UNICEF team continued work in its offices. "There was in fact no sign of hostility or nervousness on the side of any AS [al-Shabaab] in the first minutes of the incident, and only one exception until we left Baidoa," Petit wrote in his report. Even as the discussion grew strained—Hotz characterized the discussions as "a bit high-tempered"—the Shabaab raiders remained "friendly" and "courteous."
In fact, many of the gunmen were known to the UN workers. Hotz recognized some boys from the local orphanage where al-Shabaab recruited, and others had escorted her to the IDP camps in the preceding weeks. They brought her cold water at the mosque and told her she had nothing to fear. Petit recognized two Shabaab district leaders and their bodyguards. These were people they had dealt with before, and though they were under watch during the raid and allowed only infrequent outside communication, Hotz and Petit did not feel particularly threatened. "It was very clear that their instruction was not to harm anybody," says Hotz.[32]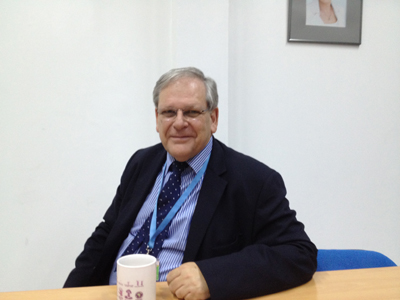 The Shabaab raiders gave repeated assurances that so long as the three targeted agencies were shut down, other UN operations could go on as usual. Though the DSS, UNDP, and UNPOS offices were looted, and nine vehicles driven away, files and equipment belonging to the humanitarian agencies were left untouched, and the departing OCHA, UNICEF, and Mine Action staff were allowed to take their laptops and other belongings.
Reading the reports, Bowden saw that the Shabaab action was narrowly targeted. The militants had drawn a deliberate distinction between the UN's "political" and "humanitarian" work in Somalia. It did not surprise him. In his years in Africa, Bowden had observed that where central power was weak, insurgents quickly became sophisticated about outside actors. The locals carefully tracked the foreigners' activities, motives and capabilities.
Moreover, the OCHA team in Baidoa—in order to gain access to clinics and camps—had spent two years educating local leaders in the difference between the UN's political and humanitarian work. "[Somalis] have a more detailed knowledge of the UN than we expect," says Bowden.
I've been to meetings where a group of elders has got together and listed every single UN agency, what they want out of them, what has gone wrong before, what their history is.
But during the raid, it was the UN staff that remained in the dark.
---
[31] Cedric Petit and Birgitt Hotz incident reports (internal, unpublished documents). All information in this section is from those reports unless otherwise noted.
[32] Lundberg interviews with Birgitt Hotz by telephone on April 23, 2012, and in Nairobi on May 3, 2012. All further quotes from Hotz, unless otherwise attributed, are from these interviews.