Platforms for Open and Social Online Courses
By Jami Carlaccio and Brian O'Hagan
Most university instructors use a learning management system (LMS) to deliver their course content, such as a syllabus and readings. They also use the LMS framework for threaded discussions, online chats, and often, the wikis or blogs that are embedded within them.
But for some educators, a traditional LMS isn't the right fit for their teaching styles. Although traditional LMSs are useful and important ways to distribute course content to students, platforms that emphasize openness and social interaction attract students who value a more interactive and multi-directional learning environment. As more and more courses are taught in virtual environments, it becomes increasingly necessary to find ways to maintain engaged learning communities lest "distance" take on a negative connotation.
For instructors, the challenge has been finding the right web frameworks to organize and openly distribute their resources independently. Moreover, these educators are increasingly interested in leveraging social media tools in order to engage with students on course topics beyond the walls of the classroom.
Two recent projects, Lore and iversity, exemplify these emerging educational trends.
Lore
A group of University of Pennsylvania students started Lore (formerly known as Coursekit) as a side project after finding that communication with their instructors inside their institution's LMS was inadequate compared to the social online interactions that they were accustomed to with friends and colleagues. Lore reinterprets the experience of an online course, offering a simple and interactive user interface focusing on comments and discussion topics. Instructors and students can post links, comment on others' posts or work, upload files, or contribute blog posts using a status box similar to those found on social networks. This service is free for instructors. While students cannot start a Lore course site on their own, they can be invited to join a Lore course site by an instructor. Since its launch in fall 2011, Lore has promoted a series of case studies on how their product can be used in higher education, including one case from Columbia.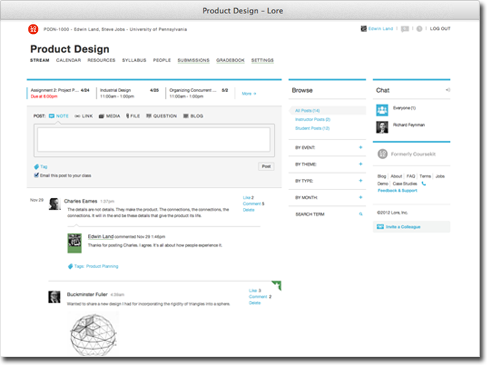 iversity
Similar to Lore, iversity was developed by an international collective of graduate students, including a former student of Columbia's School of International and Public Affairs. One of iversity's goals is to "build communities around [open educational] content." Anyone--professor, researcher, student--can start a iversity site, whether it be for a course, a conference, or for research. One of its standout features is that students have the ability to work collaboratively, annotating documents within the course environment.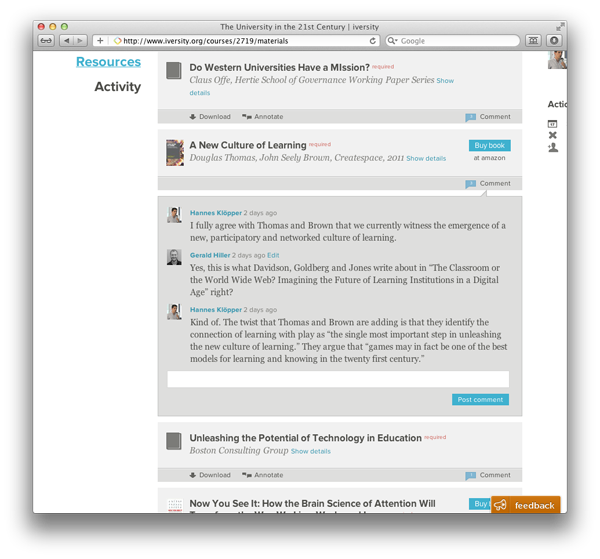 The platform also relies on external services to help students manage their academic documents offline. For example, students can order printed course packets of the documents hosted on an iversity course site and purchase books related to the course using Amazon's one-click purchasing.
Open and Social Course Frameworks
Using either Lore or iversity, an instructor can activate one of these free open course sites in minutes. Both provide a framework that instructors can utilize for publishing online courses in which anyone may enroll. Prospective students can access these services without using an institutional account. However, these frameworks do offer privacy features so that an instructor may also offer each service securely within the boundaries of a traditional university course.
While other products offer a set of organizational tools that are standard in any LMS–a syllabus framework, a calendar, file management, and hosting–both Lore and iversity are unique in that each are organized around features that use the same social vernacular introduced by Facebook and Twitter, including activity streams and sharable comments, where students can "like" and re-share posts at will. The features that make these open and social course frameworks attractive are, some would argue, what most LMS tools often lack: reliable social web features that the average undergraduate or graduate student is accustomed to using for managing their lifestyles and their coursework. Perhaps what is most notable about Lore and iversity is that both were developed by university students, based on their own academic experiences, with both teacher and student perspectives in mind.
The New Digital Divide or, One Size Does Not Fit All
As always, a note of caution is warranted when these new tools emerge in the context of education and technology. In the first place, it pays to keep in mind that desired pedagogical outcomes should drive desired features. It is all too easy to get caught up in what's new, what's popular, and, well, let's face it: what looks and sounds cool. But "cool" takes time and may not be necessary to deliver good instruction. Consider for example, the amount of time it takes to learn something new, whether it be the features on the latest smartphone or the embedded blog feature that you want to start using in the LMS. When you couple needing to learn how to use it with needing to teach students how to use it, you begin to realize just how much time you're spending, just on the technology.
Related to this, consider that many instructors in higher education are considered "digital immigrants," a term coined by Marc Prensky in 2001. Unlike their "native" counterparts, many--though certainly not all--of these digital immigrants are comfortable with the LMS framework with its familiar dashboard, navigation, and gradebook features. After all, they have been using them for more than a decade now.
Moreover, it is important to remember that educational technologies are best used when they are done purposefully. Not only must professors use e-learning platforms and tools deliberately, but they must also ensure that students understand why they're being used. In short, the technology should not inform the pedagogy. Rather, it should be the other way around.
The true potential of social web platforms that integrate open educational resources has yet to be fully tapped, but these innovative and social learning management systems hold tremendous promise for the ideas and creations that are born from today's educational technologists.