CourseWorks: Out with the Old, In with the New
At CCNMTL, we get a lot of questions from faculty who want to know about the differences they will see when their courses move from CourseWorks to New CourseWorks. Many instructors have already made the switch from the older system to the new, and others will transition to New CourseWorks in the coming months. Here are six improvements sure to make a difference:
1) Search
A powerful search function allows users to search with keywords for documents or pages in all of their course sites. The search feature quickly locates items, including uploaded files.
2) Assignments Tool
The assignmenst tool allows instructors to create, deliver, collect, assess, and return students' course assignments. You can "link" the assignment due date to the calendar, allow selected students to resubmit assignments, or elect to accept late submissions with penalty.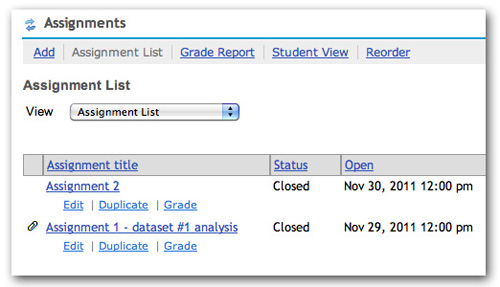 3) Advanced File Sharing
Files can be uploaded or downloaded seamlessly by creating a desktop shortcut to a course's Files & Resources location. The desktop shortcut acts like any other folder on your local computer. Once the desktop shortcut is set up, users can "drag and drop" multiple files and folders. Files appear immediately on the New CourseWorks site. Each individual file has a unique URL and can be shared publicly. Instructions for setting up this feature are available at the CCNMTL Knowledge Base.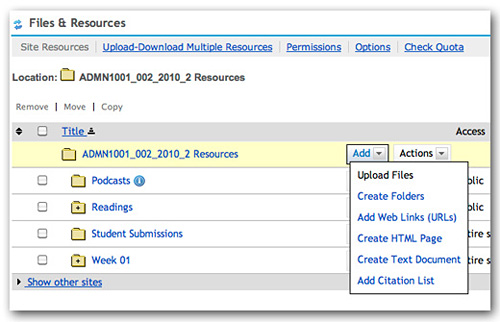 4) Calendar
Each course site has a calendar where course related-events can be recorded, including assignment due dates and class/group activities. The calendar supports attachments and recurring events, with different icons for different types of events such as class meetings, exams, and special events. Events can be viewed as a list or by week, month, or year. A summary view of all events across all courses that use the calendar feature is available. You can export the calendar or subscribe to it using Google, Outlook, iCal, or other popular calendaring systems.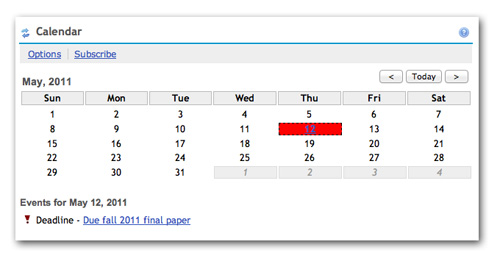 5) Take Control of the Navigation
The navigation on the left-hand side of each New CourseWorks site can be customized to include links to external sites or to rename the system's standard tools.

6) Wikis & Blogs
New CourseWorks has integrated wiki and blog tools that offer simpler version of these collaboration tools for instructors who don't need the full functionality offered by Columbia's Wikispaces and EdBlogs.
Learn More
CCNMTL will continue to assist faculty with the transition in a number of ways: introductory workshops, new documentation and video tutorials, one-on-one sessions in the CCNMTL Faculty Support Lab, and custom departmental workshops.
If you have questions, please contact CCNMTL at 212-854-9058 or ccnmtl@columbia.edu.