CCNMTL would like to welcome you to visit the podcasting station in our Faculty Support Lab in Butler Library room 204. The podcasting station is open to all Columbia University faculty and instructors who are creating media for their courses.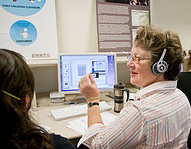 The station comes equipped with a microphone for high-quality voice recordings and headphones for careful audio and screencast editing. A wide variety of popular media creation software is available for both Windows and Mac OS platforms.
No appointment is needed, but a reservation is suggested. An educational technologist is always on hand for support and guidance. The Faculty Support Lab is open from Monday through Friday from 9:00 am to 5:00 pm. For more information call the Faculty Support Lab at 212-854-9058.
Learn how to use the following tools for creating podcasts:
Audacity: Audacity is a digital audio editor and recording application, and is available for Windows, Mac OS X, and Linux. Using Audacity, audio can be recorded via a

USB

microphone or built-in laptop microphone, and then edited using the application's audio editing tools.
GarageBand (Mac only): Using GarageBand, audio can be recorded via a

USB

-port microphone or internal laptop microphone. But the GarageBand application also has a wide range of tools available to add professional touches to your recorded media--like filters, background music, and sound effects. This software is particularly helpful for podcast creation.
iMovie (Mac only): iMovie is a video editing software application which allows Mac users to edit video clips, add titles, and add music. Effects include basic color correction and video enhancement tools, and transitions such as fade-in, fade-out, and slides.
ProfCast: ProfCast is a simple to use tool for recording lectures including PowerPoint and/or Keynote slides--and it is especially easy to create Audio+Slide media with it. This application records audio via your computer, while also recording timing of the slides that are presented on screen. ProfCast, available for Mac and Windows, also offers an integrated workflow that makes creating, recording, and publishing podcasts easy.
ScreenFlow (Mac only): ScreenFlow captures the contents of your entire desktop at the same time as your video camera, microphone or computer's audio. Sophisticated editing tools allow you to create screencasts. This application is for the Mac platform only.
QuickTime Pro (Mac only): The QuickTime Pro application for Mac or Windows can be used to record video via built-in iSight,

USB

or Firewire camera. Recorded video files can then be edited and saved as a Web-ready file using QuickTime.