The term video podcast is used for podcast feeds that, instead of audio files, deliver video which can be downloaded and viewed on demand. In educational settings, and in a similar presentation to enhanced audio files, video podcasts commonly contain a video recording of the lecturer that is intercut with the lecture slides. Video podcasts can be used to distribute screencast videos, as well (see example below).
Videos produced for podcasts can be downloaded and viewed on iTunes and other desktop media clients. These video files are formatted to be web compatible, so that they can be played on portable media devices (iPods, iPhones, and Android devices) and can be embedded in web pages and wikis. Videos produced for use within podcasts can also be uploaded and viewed on social video sites such as YouTube.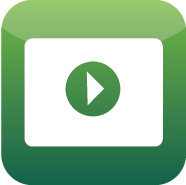 Video recordings are good for capturing:
Full speaker and presentation video recordings.
Demonstrations of actions on a computer screen (or visualizations that are not limited to images).
Complex demonstrations or analytic re-enactments.



Educational benefits for this media:
For instructors:
Video can be used to organize an image of the speaker and related presentation materials into re-usable media.
Recorded screen image summarizes and highlights terms and text, while elaborating on topics.
Recorded video can go into detail for images that are hard to explain (e.g. statistical graphs, data charts and models).
Video recording archives of lectures that may be content heavy can help students review material after class.
Lecture recording can be used post-lecture for self-assessment.
For students:
Video images alongside audio recording can reinforce spoken content.
Recorded lecture files can be used as a resource for further reflection on lecture subjects.
Access to recorded lecture media encourages active learning in reviewing lecture materials.
Connects spoken ideas to visual representations and salient terms.
---
Examples of Video Recordings
Screencast
YouTube: The Film Language Glossary
In this clip, Richard Peña, professor at the School of the Arts, gives a guided tour of the Film Language Glossary. The voice over was recorded as Professor Peña navigated and highlighted the important elements of the site.
Video Production
Masterpieces of Western Art
"Masterpieces of Western Art" is a course offered as part of Columbia College's Core Curriculum at Columbia University. The Visual Media Center at Columbia University has produced numerous videos that students use alongside the class to help them think critically about art. Video demonstrations review classic works such as Amiens Cathedral, Raphael's Fresco of the Disputa of the Vatican's Stanza Della Stegnatura, and more. "Masterpieces of Western Art" began offering a podcast of these videos in 2008.
---
Lecture Capture
CCNMTL offers consultation and services related to video-based lecture capture for Columbia faculty who wish to provide students with recordings of lectures as a study aid. Please visit the section on lecture capture for more details.
---
Recommended Software
ProfCast: ProfCast is a simple to use tool for recording lectures including PowerPoint and/or Keynote slides--and it is especially easy to create Audio+Slide media with it. This application records audio via your computer, while also recording timing of the slides that are presented on screen. ProfCast, available for Mac and Windows, also offers an integrated workflow that makes creating, recording, and publishing podcasts easy.
Camtasia: Camtasia is a screen capture program for Microsoft Windows and Mac OS X. Audio is recorded via the microphone input of your computer and an area of the screen or a window on your desktop can be selected to be captured; it is also possible to capture the entire desktop.
ScreenFlow: ScreenFlow captures the contents of your entire desktop at the same time as your video camera, microphone or computer's audio. Sophisticated editing tools allow you to create screencasts. This application is for the Mac platform only.
QuickTime Pro: The QuickTime Pro application for Mac or Windows can be used to record video via built-in iSight,

USB

or Firewire camera. Recorded video files can then be edited and saved as a Web-ready file using QuickTime.
iMovie: iMovie is a video editing software application which allows Mac users to edit video clips, add titles, and add music. Effects include basic color correction and video enhancement tools, and transitions such as fade-in, fade-out, and slides.
---
Media Formats
The following media file formats are recommended for web distribution:
MP4

:

H.264

encoded

MPEG

-4 video is the standard for high quality video and playback compatibility on the web.
MOV

: QuickTime-based video, which also supports

H.264

video encoding, is the most common video file format used in podcasts.
M4V

: Apple's file format for

H.264

encoded

MPEG

-4 video, specifically for iTunes, iPod and iPhone playback.