MIT's NB Is Collaborative Reading Done Right
NB (short for nota bene) is a tool developed by MIT's Computer Science and Artificial Intelligence Laboratory that has been around for years, but seems to get little traction in the educational community. I must admit, when I first saw it many years ago I wrote it off as"just another tool that does text annotation within a proprietary online reader" and moved on, but after another look last year I finally saw the power of NB.
Functionally, NB has many of the same attributes as other sparsely designed text annotation tools: a file repository for PDFs (and other text-based files) that is restricted to students, class-viewable comments, discussion threads, and a dashboard that presents an overview of recent activity to the instructor. However, NB excels at how it integrates these otherwise common features.





Setting up a class, adding folders, uploading PDFs, and inviting students to the site is a breeze. There are granular, but straightforward, settings that the instructor can elect, which will determine how students are able to interact with the reading list. When students visit the site they are presented with readings in an intuitive, interactive online reader. As students peruse the document they can "lasso" segments of text and immediately a small text area swoops to the margin and awaits annotation.
Situated Annotations
If the student pauses to make a note or ask a question, the result can be made public to the class, private to the student alone, or visible only to student and instructor. Annotations can even be set to appear anonymously to other registered students. Small, subtle indicators encircle selections and, as the reader skims the document, nearby annotations light up and invite further exploration or response. This is where NB really begins to shine.
Any student who has been asked to "respond to a text in the class discussion board" with a typical online tool knows that the task's ponderous logistics (and modest results) can often outweigh the assignment's utility. First you must read the text and highlight passages that interest you while making marginal notes that later will be transcribed into the discussion thread. In your post, you must lead your peers to your reference's location within the text (e.g. "in the second paragraph on page 121, Anderson argues…"), then fully describe the author's concept and, finally, add your own insights or questions.
Each of these comments loses its spatial connection to the text, which means that otherwise related thoughts get scattered throughout the discussion thread. The discussion board becomes a mess of disconnected thoughts presented in seemingly random order.
There is a better way. By affixing annotations directly to the text, instructors can recognize "heat maps" of activity. Additionally, questions can be posed in context, allowing a respondent to access all of the information nearby.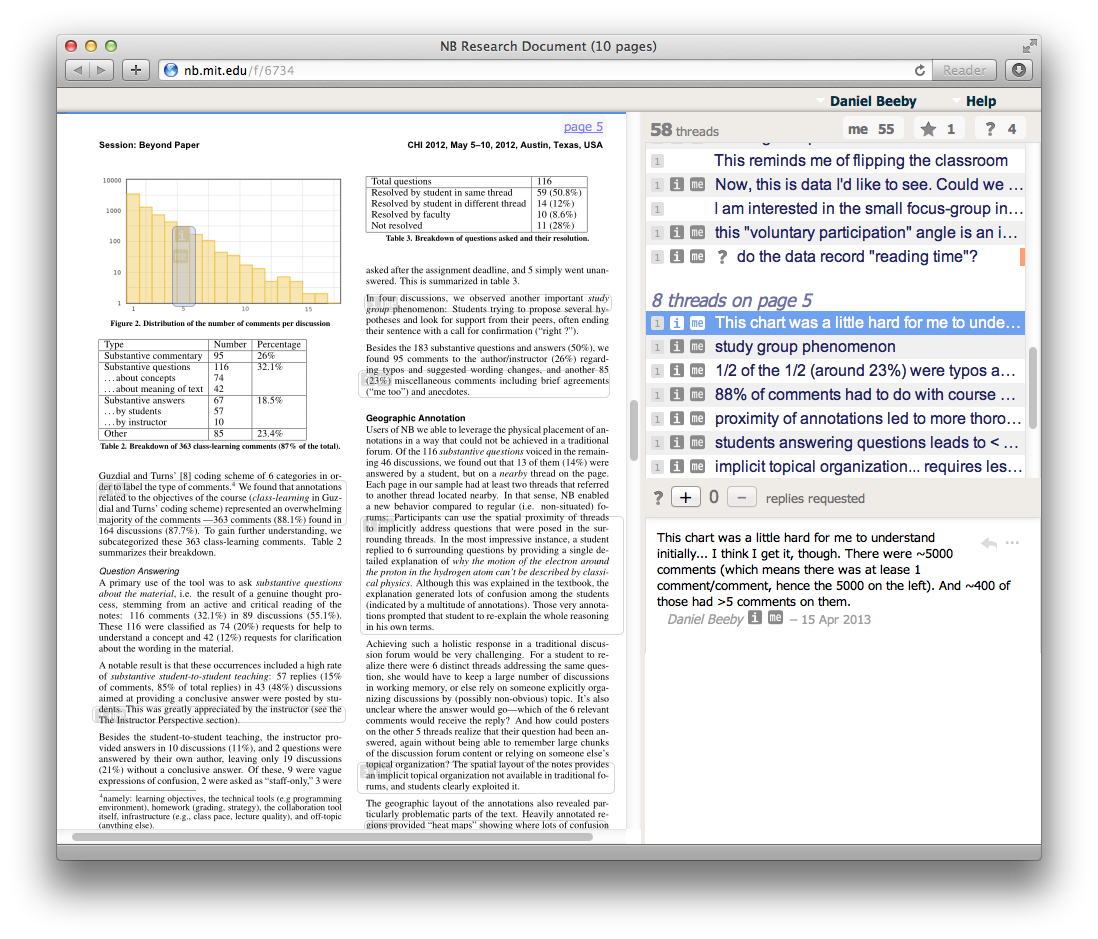 A Hint at the Paperless Classroom?
NB's developers have conducted research that indicates when students read and annotate consistently throughout the entire document, they interact more frequently with peers' comments than in a traditional discussion board and are more motivated to complete all of the reading. They also found that students who used NB to discuss the lecture notes of a single class made four times as many comments and responses as the next fifty most active course discussion boards at
MIT
combined. Unsurprisingly, the tool presents a strong motivation to forego paper (which is generally seen as a superior reading medium) and to opt for the online reader in order to see up-to-the-minute peer interactions.
Furthermore, students appreciated that high-quality peer responses happen much more quickly than when they depend on a single instructor. Students and instructors agree: collaborative reading inside NB offers a clear alternative to paper and online discussion boards when it comes to collaborative reading.
The user dashboard provides a summary list of student contributions, highlighting items that have been flagged with a reply request (e.g. problems or questions that need immediate attention). The instructor can get a quick overview of each student's work and download a printable version of the annotated document to use in the classroom, which is particularly useful in classrooms without a strong technology infrastructure or small seminars that shun in-class computer use.
The system is not perfect. The annotated print document (mentioned above) does not include students' names adjacent to their contributions, which can make in-class attribution a bit of a chore. Additionally, a tagging regime would serve the tool very well -- this would seamlessly allow annotations to be interrelated in dislocated sections of a document.
Despite its flaws this tool has proved immensely popular among teachers who wish to engage students more deeply in the reading and collect a class-wide perspective around the readings. When used correctly NB increases participation and reading rates, highlights trouble spots, and allows students to see what their peers think prior to the class session so that they use class time most efficiently.