Media Relations
Ignorant as it was, however, the WHO-Beijing office quickly found itself answering the world's questions. On February 19, Schnur to his surprise hosted a press briefing. The story of a mysterious illness in Hong Kong, with possible connections to China, was spreading fast. Some 20 journalists, frustrated by a lack of information from either MoH or the China Center for Disease Control and Prevention (CCDC), congregated in the lobby of the WHO office. WHO-Beijing had no public information officer, so Schnur invited them into the WHO library, where he told them the little he knew about the Guangdong outbreak of atypical pneumonia.
As it became clear that WHO would be a source of media information, Bekedam and Schnur strategized. As Bekedam notes, "the media can be your friend, but it can also be your worst enemy. You need to deal with it properly." That meant telling reporters what they knew, but also what they did not know. In short order, Bekedam decided to organize a weekly press conference. "It was the only way of dealing with all the requests that we got, because it was enormous," says Bekedam.
At first, the office welcomed journalists onto its premises, but in mid-March, Bekedam rented an extra office next door for press briefings; the first was March 17. Even then, it was crowded, with more than 130 journalists crammed in, including cameras from major broadcast networks. "It was completely packed. If anybody would have had SARS, at least 10 would have been infected during a few sneezes," recalls Bekedam. Welcoming the press had consequences, he notes.
In February, I was doing as limited [public appearances] as I could. [But soon] I was every day on television. Of course, we needed to make very clear that's not our thing. Our aim is about public health and how to support it.
Bekedam realized quickly that the press could provide useful information, serving as an informal part of the WHO surveillance network. "Rumors were referred and followed up," he notes. "You have to be very careful how you deal with them. But rumor verification was important," a function for which the press was well suited. "In the early phase, the media became part of our surveillance." At one point, he recalls, a Mandarin-speaking journalist phoned to report that five hospitals had told him how many SARS cases they had—and it was more than WHO was reporting. When the reporter asked Bekedam for a reaction, the WHO-Beijing director responded enthusiastically: "I think that's good information. Can you tell me what the numbers were?"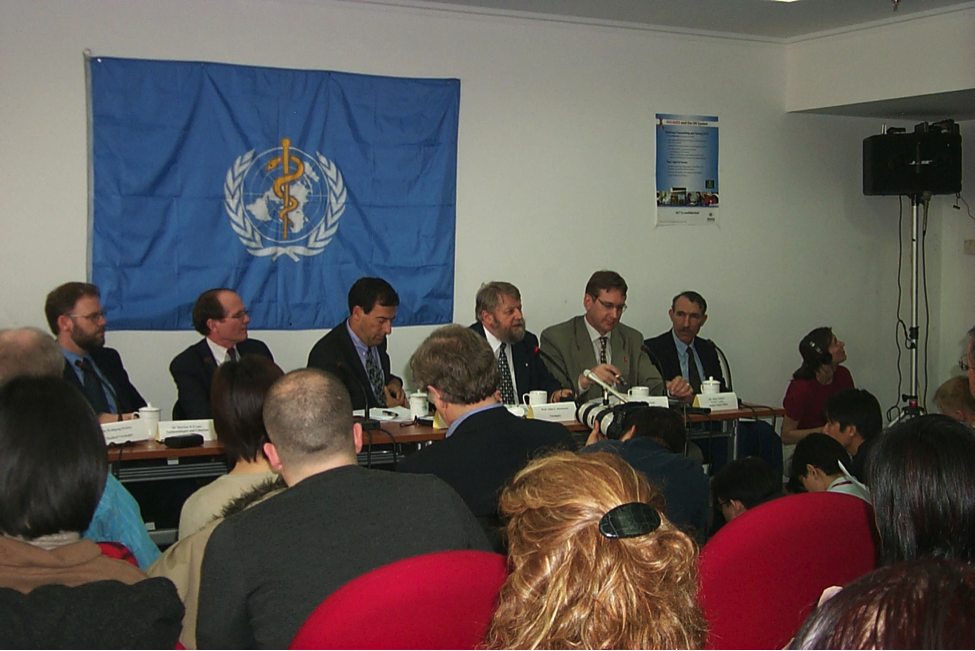 In the absence of a public information officer, Schnur became the point person for media inquiries. His only training was a stint on a college newspaper, plus the intense 1998 media attention when WHO visited Guangdong to look into avian flu. In 2003, "initially, there wasn't that much interest, so one could handle the calls," remembers Schnur. But before long, he drafted a Chinese-speaking colleague to work with him. She was able to help with Web searches, follow-up phone calls and other technical tasks.
In late February, in addition to the weekly press conferences, the office started regular email information updates. Before long, it also issued press releases, and provided opportunities for interviews with WHO staff. Finally, once WHO scientific teams started to arrive, the local office made sure to schedule a press conference at the end of each mission to report on findings.
But Bekedam did not forget that WHO-Beijing's main responsibility was to the Chinese government. As was standard, each WHO mission to China would end with a briefing for the MoH about what the team had learned. Bekedam decided that the MoH briefings would be held in the mornings, with a press briefing on the same day, but in the afternoon. He set a rule:
Whatever I said in the media I had in one way or another already discussed with the government. I did not want the China government or anybody else needing to listen to me at a press conference on what actually we as WHO had to say… If I had anything new, I would always share it first with the China government before saying it in a press conference.
Mission members were all briefed on the rule: tell the media nothing that will surprise the Chinese government.